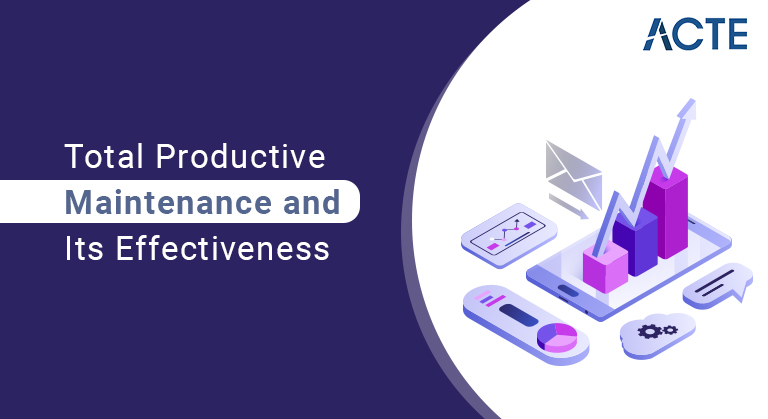 What is Total Productive Maintenance (TPM) and How Does It Help in Equipment Effectiveness [ OverView ]
Last updated on 26th Dec 2021, Blog, General
Total Productive Maintenance (TPM) is an approach to equipment maintenance that aims to achieve a perfect production process by increasing productivity, efficiency, and safety. This process involves the participation of employees in setting workplace safety standards and maintaining a safe work environment.
Introduction to Total Productive Maintenance
What Is Total Productive Maintenance?
What Are the Benefits of Total Productive Maintenance (TPM)?
What Are the 5s Foundation of Total Productive Maintenance?
The Eight Pillars of TPM (Total Productive Maintenance)
What Is the Connection Between TPM and OEE?
How Are Six Sigma and Lean Management Related to TPM?
Benefits of Automated OEE Tracking
Understanding the Six Big Losses
Conclusion
Introduction:

In the 1950s, Japanese national Seichi Nakajima developed a framework for the manufacturing industry and named it "Total Productive Maintenance" (TPM), which aims to reduce production and operating costs by eliminating waste.
Nakajima's TPM model did not gain much traction outside of Japan until it was introduced by multinational automaker Toyota in the 1970s. Known worldwide as the father of TPM, Nakajima has enabled Toyota to take its performance to the next level.
Toyota's implementation of Total Productive Maintenance facilitated greater participation and engagement, enabled continuous improvement, and encouraged employees to leverage their expertise and knowledge to improve OEE (Overall Equipment Effectiveness). The following article presents a comprehensive overview of what is total productive maintenance, the benefits of total productive maintenance, the 5s foundation of TPM, and its 8 pillars.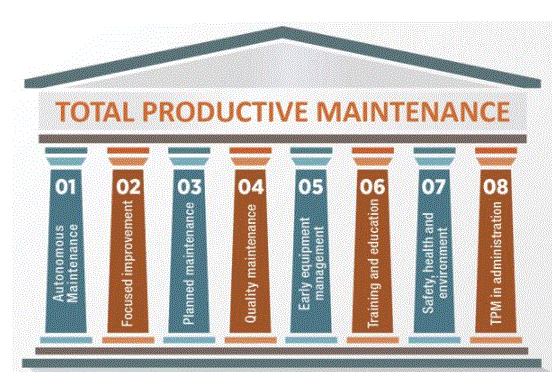 What Is Total Productive Maintenance?

A key component of Lean Management/Manufacturing, Total Productive Maintenance embraces a comprehensive strategy to optimise facility maintenance with the primary goal of eliminating resource waste, employee accidents, product defects and unplanned downtime. These objectives are achieved through preventive maintenance, continuous training, and effective collaboration between production and maintenance personnel.
With equipment effectiveness at its core, Total Productive Maintenance empowers equipment operators with skill training, proactive maintenance programs and productivity benchmark assessments, to take full charge of the maintenance of the assets assigned to them. The high degree of autonomy of the workforce reduces breakdown/over-reliance on responsive maintenance.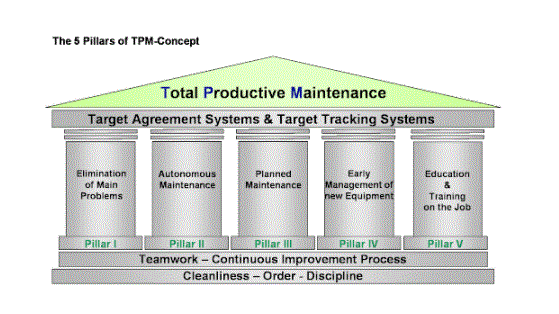 What Are the Benefits of Total Productive Maintenance (TPM)?

By applying and taking advantage of TPM principles, such as scheduling preventive maintenance tasks and involving machine operators to perform equipment maintenance activities, organisations can achieve the following benefits of total productive maintenance:

Minimal breakdown of equipment
Elimination of unexpected downtime
Better performance and output
low operating cost
clean and healthy work environment
Better workplace safety due to strict adherence to safety regulations
intensive skill development
Greater Employee Empowerment
High collaboration and knowledge sharing between departments and teams
low risk of accidents
Better compliance with environmental laws and guidelines
Increased satisfaction among all stakeholders
What Are the 5s Foundation of Total Productive Maintenance?

The "5s" are the core elements of total productive maintenance, which serve as the foundation of TPM. When implemented correctly, 5s helps create a clean, safe, efficient and organised workplace that increases equipment effectiveness, improves efficiency and reduces waste. The 5s of Total Productive Maintenance are as follows:

sort: Separate important tools, materials, and equipment from less important ones, and remove unnecessary items from the workspace.

Straighten Out: Organise everything that is important and make sure they are always available at the right time and in the right place.

Brightness: Inspect and clean the workplace at all times, including tools and equipment, to avoid equipment breakage.

Standardisation: Develop a framework and establish clear standards to facilitate the implementation of the above 3SS.

Sustain: Ensure long-term continuity of the 5s methodology through continuous improvement of safety regulations and regular audits.To establish a full-scale maintenance program, the 5s must be implemented together with the "8 pillars" of total productive maintenance listed below.
The 8 Pillars of TPM (Total Productive Maintenance):

The TPM consists of 8 pillars that focus primarily on preventive and proactive maintenance practises aimed at improving equipment performance and reliability. There are 8 pillars of total productive maintenance:

Autonomous maintenance- The concept of autonomous maintenance refers to the routine, preventive maintenance activities performed by operators, such as lubricating, cleaning and servicing production lines. Giving operators a greater level of responsibility ensures early detection of equipment issues before they develop into critical problems.

Kaizen (focused improvement- Kaizen, which means "continuous improvement" in Japanese, is a business philosophy that views productivity growth as a systematic and gradual progression. This focus fosters collaboration between teams for incremental process improvement and problem solving through cross-functional approaches, with the general intention of creating an organisational culture of continuous improvement.

Planned maintenance- Scheduled maintenance activities based on failure-rate datasets. Planned maintenance prolongs machine life, minimises malfunctions and minimises the risk of breakage.

Initial equipment management- process that leverages existing knowledge of existing equipment to develop better and more efficient new machines. Having a prior understanding of new machines in operation not only helps achieve optimised performance levels, but it also simplifies maintenance tasks dramatically.

Quality maintenanc- The primary objective of quality maintenance is to increase the quality of production by eliminating the underlying causes of failures and defects. It focuses on making fault diagnosis an integral part of the overall production process.

Training and educatio- One of the main goals of total productive maintenance is to provide continuous and adequate training to address the skill gap of all personnel. This ensures that the entire workforce, be it production managers, machine operators or maintenance technicians, remains highly trained to meet TPM standards.

TPM in office environmen- TPM is not limited to production facilities – it also aims to improve office and administrative functions. Companies should bear in mind that principles of total productive maintenance should be adopted throughout the organisational structure, including offices, which will facilitate waste elimination and increase administrative efficiency in procurement, order processing and scheduling.

That (safety, health, environment- The top priority of Total Productive Maintenance is to provide a healthy and safe ecosystem for all employees. Planned maintenance activities eliminate the risk of accident, ensuring accident free workplace environment.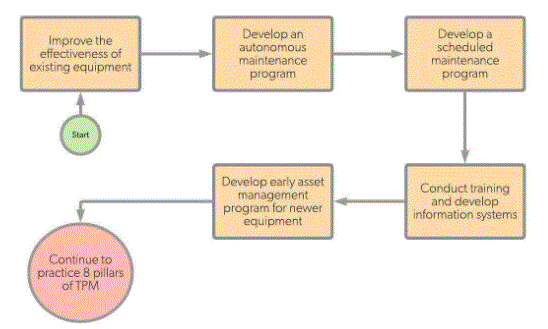 What Is the Connection Between TPM and OEE?

OEE (Overall Equipment Effectiveness) is a metric that scores the overall effectiveness or health of equipment, as a percentage, based on its output quality, availability and performance.

The OEE represents the Key Performance Indicator (KPI) of a total productive maintenance program. It supports TPM strategies by accurately tracking progress to help achieve "Perfect Production" – optimised operation, no downtime, no defects.

Develop an in-depth understanding of the Six Sigma phases of Define, Measure, Analyse, Improve and Control (DMAIC) with Lean Six Sigma Green Belt certification.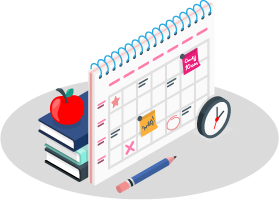 Develop Your Skills with SAP TPM Certification Training
Weekday / Weekend Batches
See Batch Details
How Are Six Sigma and Lean Management Related to TPM?

Forward-thinking companies increasingly take an approach to integrate total productive maintenance with Lean Management and Six Sigma methodologies to increase production efficiency, reduce downtime, eliminate waste and provide greater value to their customers. are adopting. Therefore, in order to fully implement the key principles of TPM, it is important to understand the overlapping concepts of Six Sigma and Lean Management practises.

With leading Six Sigma certifications such as the IASSC and ASQ, Simpilern's Lean Six Sigma Green Belt Training Course is one of the best industry-recognized courses available on the market today. Offering 56 hours of practical learning, 33 PDUs, 4 real-world projects and 4 simulation papers, this course will provide professionals with the ability to strategize solutions, identify process issues and measure performance, all of which are important in organisational development. accelerate.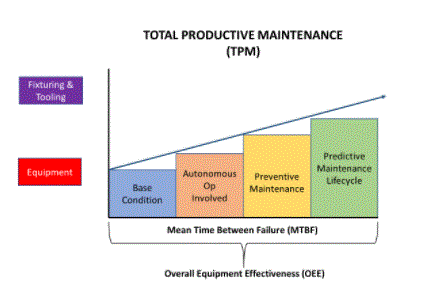 Benefits of Automated OEE Tracking:

Calculating OEE manually is a great way to start. This can be done with pencil and paper or with a simple spreadsheet, and requires only five pieces of data (Schemed Production Time, Stop Time, Ideal Cycle Time, Total Count and Well Count). Performing manual OEE calculations helps to reinforce the underlying concepts and provides a deeper understanding of OEE. However, moving fast to automated OEE data collection also has very strong benefits:

Stop time The accuracy of manual unplanned stop time tracking is usually in the range of 60 to 80% (based on real-world experience in many companies). With automatic run/down detection, this accuracy can reach up to 100%.
Short Stops and Slow Cycles It is impossible for most equipment to manually track slow cycles and short stops. This means that a great deal of potentially useful information, such as time-based and event-based loss patterns, is not available.
Operator focus It is impossible for most instruments to manually track slow cycles and short stops. This means that a great deal of potentially useful information, such as time-based and event-based loss patterns, is not available.
Real-time results Automated data collection provides results in real time, enabling correction techniques such as SIC (Short Interval Control).
Understanding the Six Big Losses:

The OEE loss categories (availability loss, performance loss, and quality loss) can be further divided into what are commonly referred to as the Big Six losses – the most common cause of lost productivity in manufacturing. The six major disadvantages are extremely important because they are nearly universal in application to discrete manufacturing, and they provide a great starting framework for thinking about, identifying and attacking waste (i.e. productivity loss).

Unplanned Stop Availability Loss Tooling failure, unplanned maintenance, bearing overheating, motor failure Flexibility to set the range between an unplanned stop (availability loss) and a shortstop (performance loss).
Setup and Adjustment Availability Loss setup/change, material shortage, operator shortage, major adjustment, warm-up time This disadvantage is often addressed through setup time reduction programs such as SMED (Single-Minute Exchange of Die) Is.
Small Stop Performance Loss Component Jam, Minor Adjustment, Sensor Blocked, Delivery Blocked, Cleaning/Checking Usually only includes stops that are less than five minutes long and do not require maintenance personnel.
Slow running performance loss Incorrect setting, tool wear, alignment problem Anything that prevents equipment from running at its theoretical maximum speed.
Production defects Quality loss scrap, reject resale during steady-state production. Low Yield Quality Loss Scrap, Resale.
SAP TPM Sample Resumes! Download & Edit, Get Noticed by Top Employers!
Download
Conclusion:

In the past, US industries have been reluctant to implement total productive maintenance in their current processes. In fact, a survey conducted by the Manufacturing Research Centre showed that only 27 percent of respondents said that TPM was an existing business initiative, but only 6 percent said they were fully implementing it. Additionally, only 5 percent of respondents said that TPM was their plant's approach to maintenance and reliability.

Despite this lack of interest, plants around the world are reaping significant benefits from making total productive maintenance the focus of their maintenance efforts. A study published in the International Journal of Innovative Science, Engineering and Technology found that, in a small-scale polymer company, the OEE value before TPM implementation was 75 percent. After a TPM program was implemented, OEE improved to 85 percent, and a better quality rate was achieved. The study further revealed how profitability increased by 12 percent, as breakdown and maintenance costs declined sharply (80 and 20 percent) while labour efficiency increased. Many other tangible and intangible benefits also emerged as a result of implementing the TPM programme.

One of the most discussed case studies for TPM implementation is the Latin American brewing company Cerveseria Cuoutémoc Moctezuma, the creator of six brands including Tecate, Dos Equis and Sol. This article details the company's TPM success, showing how total productive maintenance works in a real-world scenario.