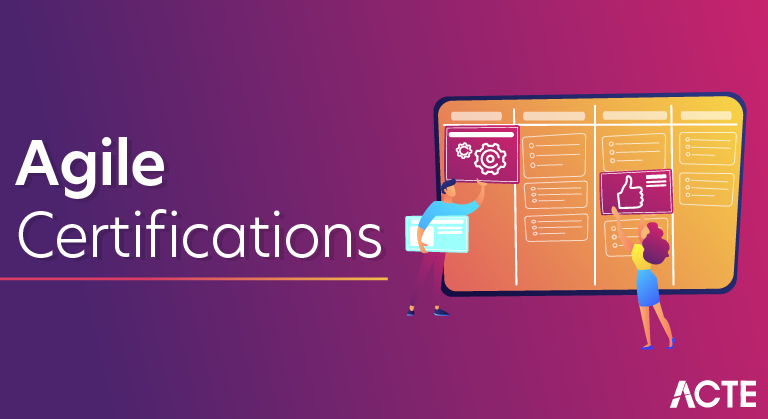 Agile Certifications Guide | Get Certified Now!
Last updated on 09th Jul 2020, Blog, General
PMI Agile Certified Practitioner (PMI-ACP)® is one of the newest certifications offered by PMI and is expected to become the industry standard certification for agile over the next few years. In addition to preparing you for the exam, this PMI-ACP exam prep course is designed to teach you the principles and practices of agile, including Scrum, XP and Lean. Don't let this opportunity pass you by, register today for one of our PMI-ACP exam prep courses.
PMI-ACP Certification Training Course
Instructor-led course, available in 4 convenient formats: Live Virtual Classroom, Live Instructor-led Classroom, Video-On-Demand and In-House
Satisfies the 21 contact hours (PDUs) required to take the PMI-ACP exam
Includes digital PMI-ACP exam prep materials, training aids, online resources, realistic sample questions and 6-months access to our online training portal
Web-based video-on-demand includes online access, which allows you to learn at your own pace

PMI-ACP Exam Prep Training Portal Features
On-demand training videos
Logical content organization
Downloadable attachments
Chat functionality
Social collaboration
Built-in practice exams
100% Money-Back Pass Guarantee
We provide a true 100% money-back pass guarantee for the PMI-ACP certification course. If you do not pass the exam after 3 attempts we will refund the full tuition amount. Our promise is simple:
You must attend the entire PMI-ACP certification Live or Virtual course and complete one full-length practice exam from our online training portal.
If you do not pass the PMI-ACP exam in three attempts, we will refund your entire PMI-ACP exam prep course tuition, provided that all attempts occurred within 120 calendar days of completing the course.
Guaranteed To Run
All PMI-ACP certification courses are 100% guaranteed to run on the dates listed. Yes, even if there's only one student. While other providers often postpone courses due to low enrollment, we promise to never do that.
Format

Live, instructor-led PMI-ACP exam bootcamp at our training facilities. You will also receive digital PMI-ACP exam prep materials and 6-months access to our online training portal.

Virtual Classroom: 2 days of web-based eLearning with a live instructor. You will also receive digital PMI-ACP exam prep materials and 6-months access to our online training portal.

Video-On-Demand: Video-on-demand with online training portal, community interaction and practice exams. This includes 6-months digital access to all training materials.

In-House: If you have 10 or more employees seeking PMI-ACP certification training, we will deliver the course at your facility (or another location in your area, if you prefer). The training can be scheduled during any two consecutive days of your choosing.
Duration
Virtual Classroom: 2 days of live instructor-led PMI-ACP certification training course, plus additional access to online training videos and practice exams taken on your own time
Video-On-Demand: 21 hours at your own pace
Live, instructor-led at our training facilities: 2 days of instructor-led PMI-ACP certification training course (9am-5pm), plus additional access to online training videos and practice exams
In-House: 2 days instructor-led at your training facility or a facility of your choosing
APMG International
APMG International is a global accreditation organization with a number of agile project management certification offerings. The goal is to benchmark the ability of project managers to deliver agile projects in organizations that require standards, rigor and visibility around the agile framework. APMG International offers certifications in Agile program management and Agile project management, as well as a certification for practitioners of the Dynamic Systems Development Method (DSDM), an Agile project management and delivery framework that is vendor-neutral.
Cost: Varies depending on the exam, ranging from £218 for the Agile Project Management Foundation exam to £330 for the Agile Project Management Practitioner exam.
Strategyex Certificate (Associate or Master's) in Agile
Online learning company TwentyEighty Strategy Execution, in partnership with George Washington University, offers either an Associate or Masters certificate in agile practices. The Associate's certificate requires taking three courses over two years, and highlights your agile knowledge and skills. The Master's level certificate requires taking seven courses over a four-year period to demonstrate your expertise in the subject and methodology. Only the Master's level certificate allows certificate holders to add credentials after their name. TwentyEighty also offers individual courses for agile project and product management, estimation and planning and Agile requirements.
Cost: Individual courses, such as Agile Practices for Product Owners and Delivering Agile Projects with Scrum, are $1,645.
International Consortium for Agile (ICAgile)
The International Consortium for Agile is an independent accrediting agency offering comprehensive Agile certifications that provide role expertise across all Agile 'flavors,' including Scrum, eXtreme Programming (XP), Kanban and more.
There are three certification levels: Professional, Expert and Master, to test and evaluate a candidate's knowledge acquisition and competency within Agile.
Cost: $60 certificate fee.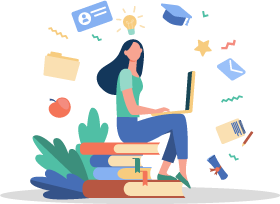 Get JOB Oriented Agile Training from Real Time Experts
Instructor-led Sessions
Real-life Case Studies
Assignments
Explore Curriculum
Agile Certification Institute
The Agile Certification Institute is an agile standards body focused on all aspects of enterprise agile adoption, not just within software development. The ACI offers a wide variety of agile certifications and credentials, covering enterprise agile product and project management, agile talent management and talent development and agile process improvement. In addition to enterprise agile certifications, the ACI offers certifications for agile flavors Lean, Kanban and Scrum at the Associate, Practitioner, Master and Owner levels.
Cost: $99 per course.
Scaled Agile Academy
As Agile moves into larger enterprises, agile professionals with demonstrable skills and knowledge to scale the framework become critical. The Scaled Agile Framework (SAFe) body of knowledge is the foundation for delivering Lean/agile development successfully in large software enterprises. The Scaled Agile Academyoffers five certifications to demonstrate knowledge and experience with SAFe: The SAFe Program Consultant Trainer, the SAFe Program Consultant, the SAFe Agilist, the SAFe Practitioner and the SAFe Product Manager/Product Owner.
Cost: $995 per course; first exam attempt is free. After receiving certification, there is a $100 annual renewal/membership fee.
Who can Take Up This Training?
An agile certification training is recommended for the following professionals:
Working and aspiring agile coaches
Professionals who require to play a leadership role in Agile projects
Product Owners
Scrum Masters
Iteration Managers
Project Managers and Team Leaders
Agile Certified Practitioner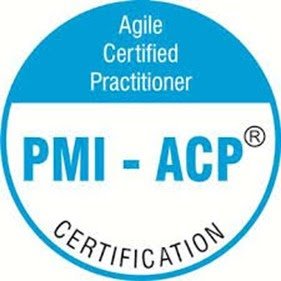 The Agile Certified Practitioner or ACP from the Project Management Institute (PMI) are project management professionals whose companies are either using or moving to agile practices.
It assures that the certification holder has real-world Experience for managing agile projects. The person also becomes familiar with many subsets of the agile methodology, including Kanban, Scrum, and Lean.
| | |
| --- | --- |
| Certification Name | PMI Agile Certficat Practitioner |
| Accreditation Body | Agile Project Manager Institute |
| Prerequisites | 2.000 hours of project experience which is working on teams.Moreover, apart from the above stated hours, either 1500 hours of working on agile project teams or working with agile methodologies are required. |
| Career Path | PMP Scrum Master Agile Trainer Business Analyst Technical Business Analyst Project Manager Agile Project Manager Digital Channel planner |
| Cost of Certification | For PMI Members: US$435.00For non-PMI members: US$495.00 |
| Average Salary | $123,000 |
| Cost of Renewal | The student can earn a maximum of 30 PDUs (professional development unit) in various course topics, every three years. |
The exam details:
Duration of the Exam: 3 hours
Total Number of questions: 120 (Only multiple Choice)
Pass Percentage: There is no percentage mentioned in their site, but score above 70% is eligible for passing this exam.
Job opportunities after ICP-ACC Training:
After completion of the training, you can act as an Agile Coach in different organisations.
Cost: $1795
Average Salary: The average salary of a professional who is ICP-ACC certified is $119,883 per year.
| Certification/Training | ICP-ACC (ICAgile- Agile Certified Coach) Training |
| --- | --- |
| Accreditation Body | ICAgile |
| Prerequisites | A basic idea of Agile MethodologySmall working experience as an Agile practitioner |
| Career Path | Agile Coach |
| Average Salary | $119,883 |
| Cost of Certification/Training | $1795 |
Agile Sample Resumes! Download & Edit, Get Noticed by Top Employers!
Download
Conclusion
After all this discussion, we can easily say that various Agile certifications assist you to improve delivery predictability and accelerate software delivery. Also, it helps in cutting down the overall cost of a project. All these certification courses also pave the way for you to get global recognition and stand out from the crowd.