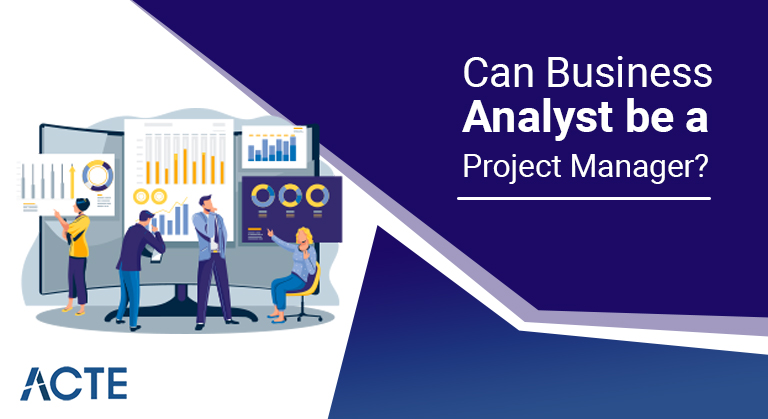 Can Business Analyst be a Project Manager? : Expert's Top Picks
Last updated on 21st Dec 2021, Blog, General
This looks like the most typical career path of a business analyst. Going to a project manager is fairly common, because many the abilities learnt as a business analyst may be transferred to a project manager function (and it is really the path I am now taking with my career).
Introduction to Business Analyst and Project Manager
Business Analyst versus Project Manager
Attributes of an Effective Project Manager
Must-Have Features for a Business Analytics Tool
Transitioning from a BA to a PM
Can a Business Analyst be a Project Manager?
How do business analysts meet with other organisations?
What exactly does A Business Analyst Deliver?
Business Analyst vs Project Manager
Benefits of data analytics for your business
Benefits of project management
Conclusion
Introduction to Business Analyst and Project Manager:

Each business analyst (BA) and project manager (PM) complement the key roles in the projects. Business analysts lead needs collection, solution production, and communication with business users, while project managers lead the project from implementation and planning to implementation, monitoring and control, and closure. Although the roles and responsibilities of each topic may vary from company to company, there is often an overlap between the business analyst and the project manager. With these practical features, how can a business analyst effectively change the role of a project manager?
Business Analyst versus Project Manager:

Because the roles of a business analyst (BA) and project manager (PM) can vary greatly from company to company, it is difficult to know exactly what to expect in each role. Generally, however, there are areas in which each role has been agreed upon. A business analyst may be expected to perform any of the following tasks as outlined in the PMI exercise guide, Employee.

Business Analysis:

Identify business needs or problems facing the business
Find and explore potential solutions
Collect requirements for participants
Facilitate the successful implementation of the solution

In addition to these activities, a business analyst may be expected to demonstrate a variety of skills and competencies, including:

Analytical skills
Business and industry information
Communication skills
Influencing skills
Organisational skills
Problem solving skills

Many more are included in the practice guide, but we highlight these six to show that the required skills and competence of business analysts are highly relevant to project managers. Project managers are often expected to demonstrate analytical skills to break down problems into their own causes and find solutions. They benefit from business and industry knowledge as they lead projects in specific areas. Communication is a major part of a project manager's job, such as planning and problem solving. Finally, a common phrase found in project management skills is "influence without authority," which business analysts should be able to do. Other areas in which the business analyst and project manager work is closely related to stakeholder management and communication management. Both the business analyst and project manager need to manage stakeholder expectations and communicate effectively in order to move the project forward successfully.

The main difference between these roles is their technical fields. A business analyst is very concerned about business and strategy. Projects are evaluated based on their impact on business objectives and whether they can solve business problems and meet key strategic objectives. Although both the business analyst and the project manager will share in achieving the benefits to some degree, the business analyst is likely to be the owner of the process. In contrast, the main concerns of the project manager are the plans and results of the project. Project managers will lead efforts to plan and report performance. Project managers may take ideas from business analysts for planning, reporting and changing management, but they drive successful project delivery. They should also make sure that all their project documents are secure and organised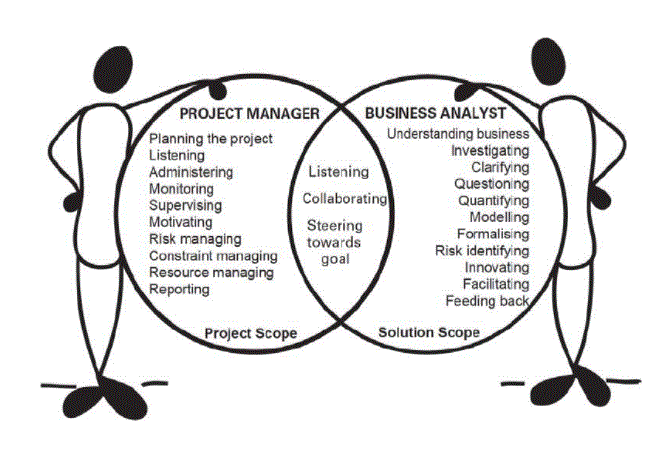 Attributes of an Effective Project Manager:

1. Effective communication skills- One of the qualities of a good manager is to be a good communicator so that he can communicate with people at all levels. The project manager must clearly define the project goals and responsibilities of each member, responsibilities, expectations and feedback.

2. Strong leadership skills- Effective project management means having strong leadership qualities such as being able to motivate his or her team and move them to higher performance so that they can achieve their goals.

3. A good decision maker- An effective project manager needs to be able to make decisions because there will always be decisions to be made.

4. Technical technology- Since project management software and other related programs are essential to achieving project goals, a successful project manager needs to have a good technical knowledge to understand issues related to the technical aspect. Knowledge of the theory and the technical side can greatly assist the manager in taking strategic action when needed.

5. Encourages the vision you share- A successful project manager can convey ideas to members of his or her team very well. A visionary can lead his people in the right direction and easily adapt to changing circumstances. They are good at empowering people to see the idea for themselves.

6. Team building skills- The team needs to work together otherwise the project will face a variety of relationship challenges that may hinder its success. Project managers need to know how to give each of them the importance they need by focusing on their positive aspects. He should behave in a proper and just manner.

7. Cool down under pressure- As the project progresses, certain incidents may affect the dynamics of the project and test the patience of the project manager. It is important for the project manager to remain calm at all times and to stay focused so that he does not lose himself and disrupt his relationship with the team.

8. Good communication skills- One of the qualities needed in successful project management is the ability to negotiate. In times when that conflict arises because of differences in opinion, project managers need perfect negotiation skills to resolve a problem and maintain harmony within the team.

9. Empathy- Understanding and caring for people and thanking them for their help are just some of the few things a compassionate leader shows to his or her members. It involves understanding the needs of the project and its stakeholders.

10. Ability- A good manager knows what he is doing, can start new projects and face the challenges that come with it.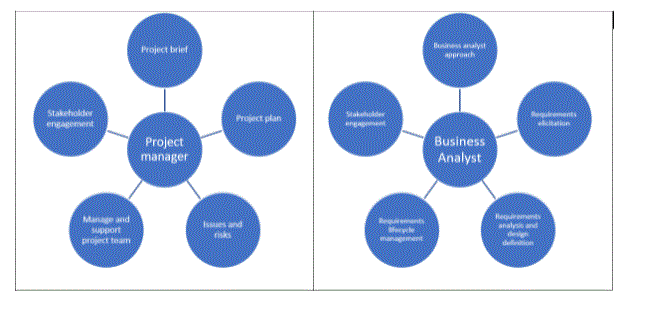 Must-Have Features for a Business Analytics Tool:

Intuitive Interface: It should allow the user to perform analytical tasks using an accurate visual interface without using codes or editing.

Ability to Collect Data: As business users access data from a variety of sources, the tool should be able to integrate advanced data and enrichment.

Ready to Use Ideas: In today's fast-paced business environment where delays in seconds can exhaust your customers, the tool should be able to deliver ready to use business intelligence.

Easy to share: It should have a simple and manageable sharing power to bring network information to a multi-user area.

Quick stats: It should grow to enable customised analysis and development of new modules for changing business needs.

Integration Support: It should support the integration of other major BIs, analytics or data recognition tools to enable seamless mobility and data compliance.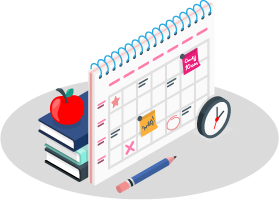 Learn Advanced Business Analyst Certification Training to Build Your Skills
Weekday / Weekend Batches
See Batch Details
Transitioning from a BA to a PM:

There are 3 steps a business analyst can take to transform a project management role:

1. Gain performance information by managing change

Change management affects each important component of triple project management. It is related to managing and controlling the scope of a project by evaluating the impact of change. In order to effectively analyse these impacts, cost and effect schedules must be worked out, providing business analysts with cost and time management information. The change management process also serves as a response to the quality of collected needs. If there are a lot of changes, it may be that major stakeholders are missing out or the collection process needs some improvement. By spending time working on project change management, business analysts can get a glimpse of what it's like to be a project manager.

2. Understand how business analysts and project managers can differentiate.

As we explained earlier, there is a significant overlap in the roles of business analysts and project managers, and this escalation may be even greater depending on the organisational context. For example, both business analysts and project managers may be involved in controlling stakeholders in different areas of a project. While the project manager needs to consider all the stakeholders in the project, the business analyst may focus more on the participants who are part of the needs collection. Additionally, project manager communication during a project is more likely to focus on completed work, risks, and problems, while business analyst communication is more likely to focus on delivery delivery and whether the delivery meets business objectives.

3. Learn and grow as a project manager.

Business analysts are in a very good position to be project managers. They usually work with projects from start to finish, so they may have a solid understanding of what project management involves. They are particularly good at building and managing scope, one of the components of a threefold limit. With this foundation in place, business analysts can speed up their learning to become project managers. Business analysts may have an easy time accepting the principles outlined in the Knowledge Management Project Project Guide (PMBOK® Guide) that will help them earn certificates. Business analysts can go on to obtain an entry level certificate such as a Certified Associate in Project Management (CAPM) ® and obtain information as a project coordinator or sub-project manager to apply to Project Management Professional (PMP) ® later.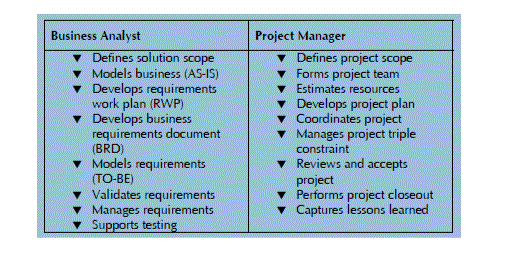 Can a Business Analyst be a Project Manager?:

Business Analysis is a topic based on the preparation of the work required for each job, no matter how much work: whether one site-based facilitator or the whole team is working on a multi-platform system design. There is no limit to how much testing can be done, and, as a result, this can represent the size of the task. If no Business Analysis is performed, we receive the following penalties:

Occupational hazards: Unexpected circumstances may cause a job to fail

Labour Fees: Misuse of resources results in additional labour costs

Duration of Activities: The low direction of overlapping activities causes the tasks to take longer.

Business evaluation is based on the widely accepted best practises that will be discussed in this post. However, it is not an accurate science, and there are several conflicting theories about some of its practises. Most organisations that rely heavily on Business Analysis may refine their processes that work best for their business.
How do business analysts meet with other organisations?

It is important to know that business analysts may or may not work, depending on how they are used in the organisation.
Sometimes, business analysts are primarily responsible for identifying development opportunities. In some cases, this type of business evaluation is carried out at a higher cost in the organisation by senior executives or specific categories, and then a business analyst is brought in where there is work that is already intended to integrate, design, and manage specific situations.
A business analyst, moreover, is hired after the start of a job, usually to evaluate and validate a solution against company conditions.

Some companies often use a project manager to do business analysis. Small to medium-sized firms often do not segregate these areas; rather one person should do both. This is one of the reasons why Ready2ACT has so many project managers attending its business analysis courses and business analysts visiting its project management courses.
In our experience, project managers who study business analysis report a high level of success in defining the scope of activities and sales. As a result, this empowers them to manage the distance changes in the workplace and raises the possibility of completing tasks on time, on or off budget, and to the full fulfilment of the participants.

Business analysis is a task selected and commissioned by the International Institute of Business Analysis (IIBA). Similar to Project Management International (PMI), IIBA establishes an international standard for business analysis processes and now issues a Certified Business Analysis Certificate (CBAP). These commonly accepted procedures are hosted by BABOK, which is organised by six databases (compared to the nine PMBOK).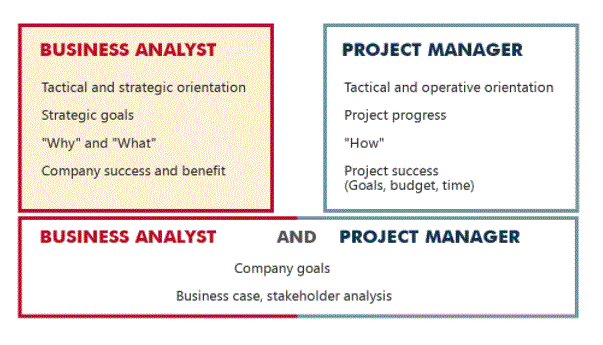 What exactly does A Business Analyst Deliver?

They are in charge of bringing about the legal requirements for change in the company system. This can come in a number of ways, depending on the task and the program:

Company Conditions – a high standard, or complete listing of the requirements and methods of successful work or program. Something like "reduce the time taken to get the job done" can be in this file.

Functional Requirements – broad requirements for a job or program. They explain how the system will meet the needs of the specified company.

Negative Requirements – All of these requirements are exactly the same as the actual requirements. Inactivity simply means that it has nothing to do with system performance. It records the system requirements that must be met in order to be successful. An example of this would be "The system must perform function B in less than two minutes".
Business Analyst vs Project Manager:

Comparison of Roles in a Project

In any project, there are many stages such as initiation, planning, execution, control, and final phase. Now let's take a look at what exactly the roles of a Business Analyst and Project Manager are in these categories.

Initiation

The role of the Business Analyst in the initial process is to communicate with stakeholders and to know their most important needs. Meanwhile, the role of the Project Manager here is to focus on funding and the timeline. This means that the Task Manager collects all the necessary information about the budget and time available so that he can plan resources and adjust work schedules accordingly.

Planning

Then, the project comes to the planning stage. In this section, the Business Analyst deals with business needs in a more detailed way. Divides the process and distributes what works among developers. The Project Manager, on the other hand, prepares the system so that developers and stakeholders can communicate, and together with that, work through the risk management plan to avoid all future risks to the project. Business Analyst and Project Manager combine ideas and ideas and implement a project plan.

Execution

In the process of doing so, the Business Analyst carefully evaluates the project using test cases. Although, the Project Manager is responsible for monitoring the project at this stage. Both technicians will ensure that the work is done on time with zero errors.

Control Phase

The control phase is to review the final results. The Project Manager distributes the evaluation cases and completes the project and that final result is reviewed by the Business Analyst. Business Analyst updates test results and detects bugs. The specialist also provides project development solutions at this stage.
Benefits of data analytics for your business:

The rich variety of data generated by businesses contains important information, and data analysis is a way to unlock it. Data analysis can help an organisation with everything from personalised marketing to each customer to identifying and minimising risk to their business. Let's look at five benefits of using data statistics.

1. Customise the customer's feeling

Businesses collect customer data from a wide variety of channels, including prostitution, e-commerce, and social media. By using data statistics to create complete customer profiles from this data, businesses can obtain information about customer behaviour to provide personalised feedback.

Take over the online and physical retail business. The company may analyse its sales data and data from its social media pages and create targeted social media campaigns to promote e-commerce sales of product categories that customers are already interested in.

Organisations can use behavioural statistics models on customer data to improve customer awareness. For example, an entity may use the e-commerce data forecasting model to determine which products it can recommend in order to increase sales.

2. Inform the business decision-making process

Businesses can use data statistics to guide business decisions and reduce financial losses. Guessing statistics can suggest what might happen in response to business changes, and target statistics may indicate how an entity should respond to these changes.

For example, an entity may model changes in prices or product offerings to determine how those changes may affect customer demand. Changes in product delivery can be assessed by A / B to confirm the assumptions produced by such models. After collecting sales data from modified products, businesses can use data analysis tools to determine the success of changes and visualise results to help decision-makers decide whether to effect changes across the business.

3. Prepare tasks

Organisations can improve efficiency through data analysis. Collecting and analysing data about supply chains can show where production delays or issues start and help predict where future problems may arise. If a demand forecast indicates that a particular seller will not be able to control the required volume during the holidays, the company may add or replace this seller to avoid production delays.

In addition, many businesses – especially retailers – are struggling to increase their level of creativity. Data analysis can help determine the overall delivery of all business products based on factors such as specific seasons, holidays, and country trends.

4. Reduce risk and catch obstacles

Risks are everywhere in business. It includes customer or employee theft, uncollected receipts, employee safety, and legal liability. Data analysis can help an organisation understand the risks and take precautionary measures. For example, a sales chain can use a trend model – a statistical model that can predict future actions or events – to determine which stores are most at risk of theft. An entity may use this data to determine the amount of security required in stores, or whether it should be from any location.

Entities may also use data statistics to limit losses after a reversal occurs. If an entity overrides a product need, it may use data analysis to determine the total cost of the auction to narrow the list of terms. The business can also create statistical models to make automated recommendations for problem-solving problems.

5. Improve security

All businesses face data security threats. Organisations can use data analysis to identify the causes of past data breaches by processing and identifying relevant data. For example, an IT department can use data analysis applications to analyse, analyse, and visualise their research logs to determine the course and origin of an attack. This information can help IT to identify and process it.

IT departments can also use statistical models to prevent future attacks. Attacks often involve unusual access behaviour, especially on load-based attacks such as distributed denial-of-service (DDoS) attacks. Organisations can set up these models to operate continuously, with monitoring and warning systems mounted to detect and mark confusing issues so that security professionals can act quickly.
Business Analyst Sample Resumes! Download & Edit, Get Noticed by Top Employers!
Download
Conclusion:

After going through the blog, we can conclude the difference between a Business Analyst and a Project Manager. A good software solution is more than just writing code without interruptions, it is about fixing problems and meeting customer expectations. Project Managers and Business Analysts are assigned to achieve these goals. The Project Manager usually focuses on the project as a series of activities, establishing foundations, liaising with the development team, and dealing with project issues. On the other hand, the Business Analyst is concerned with the final product, analyzes market problems, and proposes a technical solution.

Therefore, in a company, the roles and responsibilities of a Business Analyst and Project Manager are different but are essential to the success of any project. Intellipaat offers you the best Business Analytics Online courses. Register now for more information and become an expert at Business Analytics.