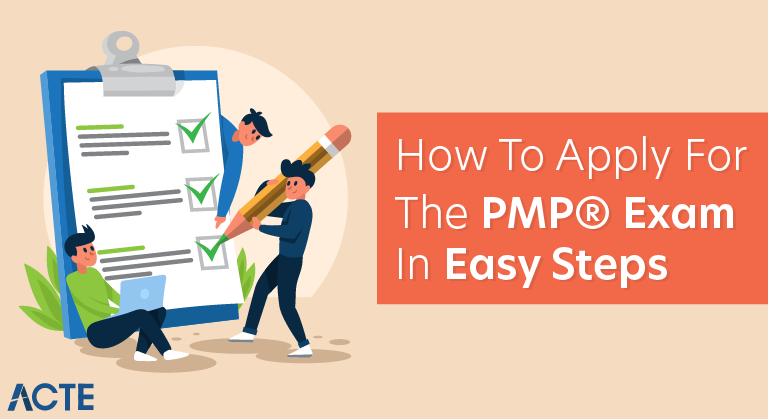 How To Apply For The PMP Exam In Easy Steps | A step by step Guide
Last updated on 15th Jul 2020, Blog, General
What is Project Management Professional (PMP) Certification?

PMP certification is issued by the Project Management Institute (PMI) to the experienced project managers when they successfully pass the exam. The certificate acknowledges individual's experience, skills, and achievement. The worldwide recognized PMP certification benefits the individual and organization both.
What if you get audited?
PMI selects a few application at random for the audit process. If your application is selected for audit, you will be notified through email. During the audit process, PMI will ask to submit the following supporting documents:
Copies of your secondary degree/ Four-year degree certificates.
Copy of the 35 contact hours certificate.
Signatures copies from the manager or supervisor for the project recorded in the experience verification section of the application.
PMI provides a 90-day time span to submit the above-requested documents. The audit may take up to 7 days once PMI receives all documents. There are a few best practices you can adopt that will save you a lot of time during the audit and ensure a smooth audit.
As part of your application, you need to provide some information for each project you quote your experience for. Among various other things, this includes current information about your primary contact for that project. This primary contact could be your Project Sponsor, your Manager or Director, the Client, or the Primary Stakeholder for the project. Before filling in this information
Check and make sure the contact information you provide for this person is accurate
Your contact persons are aware of you quoting the experience so that they are prepared to respond just in case you get picked up for an audit
Another best practice to maintain a folder for all the documents that you would need to support your claims in the application.
Once you successfully completed the application audit, PMI will send you an email notification with your PMI eligibility ID and examination scheduling instructions. From this day you have one year to schedule the exam. Check out the below video to know in detail about filling the application the right way.
5 Top Reasons to Get PMP Certification:

Before racing to get any qualification, 'why' roams your mind; and, it should be. Therefore, before diving deeper into the areas like eligibility, objectives, and preparation, etc, go through the following 5 reasons that answer – 'why'.
1. 22 million new jobs would be created for PMPs in just 11 countries including India by 2027. By deciding to get PMP certification, your eye on the global requirement of 88 million PMPs in different sectors. (Report by Anderson Economic Group)

2. PMP certification is, at times, a contractual requirement when working on large client engagement in many sectors. Any industry like manufacturing, construction, information services, publishing, finance, insurance, management, professional service, oil & gas or service is going to have only PMP certified project managers because of additional challenges to perform in the more volatile global market.

3. According to 9th PMI salary survey (2015), PMP certification gives the instant boost of 20% salary hike; the survey covered approx. 26,000 project managers working in 34 countries; and, 1,197 respondents were from India. The statistics confirm that PMP certified manager gets about Rs. 17 lakh P.A. while a non-PMP certified manager gets 12 lakh P.A.

4. PMP qualification certifies your insights and expertise in project management besides certifying your achievements in profitable project management.

5. As the respected member of a worldwide community of PMP certified project managers, you are seen as more credible to follow the particular codes of ethics.
PMP Certification Requirements
The PMP Certification is the most globally recognized of project management certifications. Earning your PMP Certification will set you apart as a leader on your team and increase your earning potential.
Here is everything you need to know about the PMP certification process, PMP certification training courses, and PMI's certification requirements. Project Management Academy has all the information to guide you through the journey.
PMP Exam Preparation Difficulty
Before taking the PMP exam, you have to pass an officially authorized 35-hour prep course that prepares you for both from the theoretical and practical knowledge areas of the exam.
The main reference text will be the PMBOK that contains the PMI's project management standard. This textbook, also commonly referred to as the PMBOK guide, should be studied fully or at least known in its main parts.
Additionally, the exam questions will cover five domains which are: Initiating, planning, monitor-control, Performing, Closing a project.
In the PMI's online Examination exam content outline, the exam outline is expressed as follows: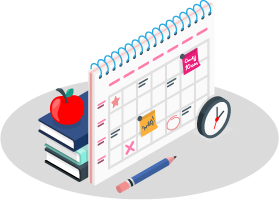 Learn PMP Certification Training Course and Get Hired By TOP MNCs
Weekday / Weekend Batches
See Batch Details
13% questions will focus on the domain Initiating
24% questions will focus on the domain Planning
31% questions will focus on the domain Executing
25% questions will focus on the domain Monitoring and Controlling
7% questions will focus on the domain Closing 25%
The total Number of Scored Questions will be 175 plus 25 unscored (pretest) questions
It's recommended that you will spend at least 60 additional hours studying for the exam, apart from the 35 hours in a PMP exam prep course. Furthermore, further hours should be dedicated to practice exam simulator questions.
That's why it's so important that you find a study guide that works for you. Picking the right study materials could mean the difference between studying for 40 hours instead of studying for 75 hours. Ultimately, you will want a study plan that includes exam-like questions, full or short mock exams, and prep books that go into great detail about the project management experience.
Consequently, you can test yourself and prepare for the exam properly. Basically, a good rule of thumb to consider yourself ready for the exam is passing some consecutive full simulated exams with 75-80% score.
How to Apply for the PMP Exam
Step 1: Become a member by joining online at PMI.org
It is prudent to become a PMI member before registering for the test. For PMI members, the cost to take the computerized test is $405.00. For non-members, the cost is $555.00. The discount makes up for the cost of membership, and membership affords you access to free electronic copies of the PMBOK® Guide and the Salary Report. Joining your local chapter usually requires paying an additional small annual fee. You can become a PMI "global" member without joining your local chapter.
Step 2: Complete the Online Application
The easiest way to complete the application process is online, using PMI's online certification system. Once you've started the application, you have 90 days to complete it before you must start over again. Once you've submitted your application, you can keep coming back to the system to check on your application status. The online application will ask you to enter the source of your 35 contact hours, the institutions and years in which you obtained your education and all your years and hours of experience. You will enter your years of experience as date ranges (for example: Aug 2011 to Jun 2012, Oct 2012 to Oct 2014, etc.). You will enter your project management hours by each project. For each project, you'll be asked to write a description of your role, a summary of the project, and the name of your supervisor/manager (or someone who, if audited, can vouch for your involvement on the project.) You'll also be asked to list the number of hours spent in each process group of the project. For example:

Helpful tips to keep in mind when completing the PMP application:
Your years of experience do not have to be consecutive.
One year of working 80-hour weeks still counts as just one year.
You do not need to have hours in every process group on every project.
Your 35 contact hours are different from the PDUs that you'll need to obtain to maintain your PMP credential. In other words, the 35 hours you used to obtain your PMP credential cannot then count towards the PDUs needed to maintain certification.
Step 3: Wait for Confirmation of Receipt and Completeness of Application
Once you've submitted your application, PMI will review it for completeness. This could take up to five business days. Continue checking the site for updated status information about your application.
Step 4: Submit Payment
Once your application has been processed, PMI will request payment. This can be done online.
Step 5.1: Wait for Confirmation of Acceptance of Application
After submitting payment, PMI will review your application for content. After this stage of review, you may be flagged for an audit. You should know if you've been audited within seven business days. If you are not audited, you will be notified and prompted to register for the test.
Step 5.2: If You Are Audited
You will have 90 days to submit your audit materials, which include copies of your diploma and any certificates you earned when you obtained your 35 contact hours. PMI will also provide you with a downloadable form that you'll need to print and give to your references. After completing the form, your references will need to either send directly to PMI® or give to you in a sealed envelope so that you can submit to PMI with the rest of your materials. If for some reason you do not pass the audit, PMI will refund your money (less a $100 processing fee.)
Step 6: Take the Exam!
PMP Sample Resumes! Download & Edit, Get Noticed by Top Employers!
Download
The computerized test is offered at Prometric sites across the country. There are no scheduled breaks during the four-hour exam, but you may leave at any time to take a break. Keep in mind, however, that the clock will still be ticking while you're in the bathroom! You'll need to bring a form of ID with you that includes your signature, a photograph, and the English language (or translation to English). You won't be able to bring calculators or scrap paper to the exam, but both will be provided to you upon arrival. The calculator is built into the computerized exam tools.
You will receive your score immediately after completing the exam. Your score will be presented to you as a "Pass or Fail" designation; you will not know the percentage of questions you answered correctly on the exam. You can take the test three times within one year. If you fail all three times you must wait one year before making another attempt.