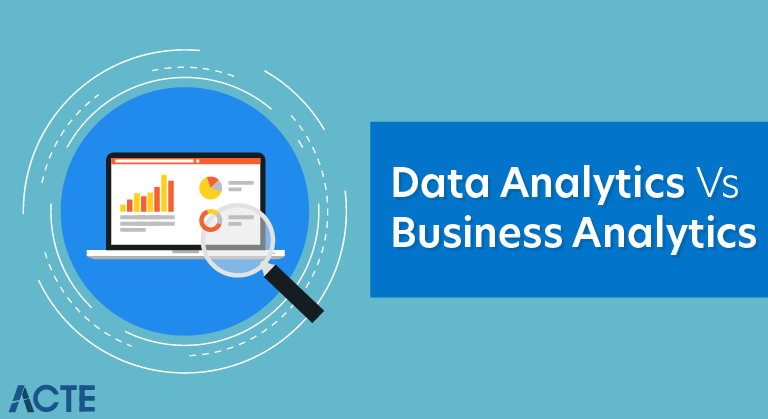 Data Analytics Vs Business Analytics: Which is better?
Last updated on 09th Jul 2020, Blog, General
Data Analytics
A data analyst is tasked with collecting, processing and analyzing how available data can be used to discover important insights that can help businesses improve efficiency or solve problems.
Data analysts spend their time working with data in various ways, throughout the data pipeline. The role of data analytics involves mining data, cleaning data, applying statistical techniques, designing programs and databases to manage data and fixing bugs. In the data analytics process, data analysts need to be able to work with different departments such as IT and management to determine goals and then report results in a clear and meaningful way.
To become a data analyst a strong background in math, statistics, and computer science are essential. A minimum of a bachelor's degree in a STEM field with a strong set of software skills including programming in R, Python, and/or SAS and relational database management are required for almost all data analyst positions. You will also be well-versed in data analysis tools that support data visualization, data collection, crawlers that extract big data, and access databases.
In order to continue to advance in this field, you will likely need a masters or doctorate in a related field. Certificate programs and data science bootcamps can also go a long way in preparing students for a career or masters program in data analytics.
Business Analytics

A business analyst uses data to make practical, concrete decisions for a company. The evolution of business analytics is on-going but is rooted in solving problems and improving efficiency using a combination of data-driven insight, managerial strategies and clear communication. By applying the insights that can be derived from data, they work on the frontlines of the data pipeline. Business analysts should have a working knowledge of statistical tools and programming as well.
Business analysts often come from backgrounds in management, business, IT, computer science or related fields. Business analysis combines many different topics and a diverse background is a great asset. In our interview with a business analyst for Monster, Chris Hunder said "One day you may be looking into customer data points, and another you might be focused on fresh data sets; however, solving unique problems keeps it fun."
In business analysis, effective communication can be important. In order to make changes work, you must ensure that stakeholders understand the reasoning. In this way business analysts can act as the middle-man or translator between data analysts, executives and stakeholders.
Though some business analytics positions require only a bachelor's degree, a masters may be necessary to get upper level positions. There are many online graduate programs in business analytics that could prepare you for these roles and maybe maximize your earning potential. Learning more about business analytics tools such as SWOT, Rational Requisite Pro from IBM, Blueprint, and Axure could be beneficial to spruce up your resume.
Data Analytics Vs. Business Analytics
Data analytics is a field that uses technology, statistical techniques and big data to identify important business questions such as patterns and correlations. The implementation of data analytics in an organization may increase efficiency in gathering information and creating an actionable strategy for existing or new opportunities.
Business analytics is focused on using the same big data tools as implemented with data analysis to determine business decisions and implement practical changes within an organization. Business analytics is implemented to identify weaknesses in existed procedures and to surface data that can be used to drive an organization forward in efficient and other measurements of growth.
It is important to understand the similarities and differences between these fields when considering starting a career in either data analytics or a career in business analytics. These fields will often share the same goal of increasing efficiency through data, but their differences are key. The skills, interests and background needed to be successful in these fields should be considered before you pursue one of these paths.
More Than Just Semantics Despite the differences between data analysts and business analysts, individuals in both careers have promising futures.
"They're both in strong demand right now," Angove says. "Data science is a hot-button issue for many companies, and a lot of them are hiring and building out large data teams."
No matter which career path you ultimately decide to pursue, there are steps you'll need to take to prepare yourself for the workplace. Perhaps most importantly, you'll need to develop the skills required for your desired position and complete the appropriate training.
For business and data analysts alike, having advanced knowledge of the theoretical foundations and practical tools of analytics can have powerful career outcomes. Research from Burning Glass Labor Insight shows that 25 percent of employers hiring data analysts prefer or require candidates to have graduate degrees.
As important as it is to build these skills, it's also essential to find a program that meets your needs and will put you on the path toward success. Northeastern's Master of Professional Studies in Analytics, for example, equips students with the resources they need to break into or advance in the industry.
The program is led by industry-aligned faculty who bring their own experiences in the workforce to the classroom every day. In addition to extensive networking opportunities, the program's emphasis on experiential learning provides students with the practical skills they need to be successful on the job.
Graduates of this program come away with a portfolio of work samples demonstrating their expertise, an asset that helps their resumés stand out when they enter the workforce.
Data Analytics and Business Analytics Comparison Table
Following is the list of points that show the comparisons between Data Analytics and Business Analytics.
Business Analyst Sample Resumes! Download & Edit, Get Noticed by Top Employers!
Download
| BASIS FOR COMPARISON | Business Analytics | Data Analytics |
| --- | --- | --- |
| Focus | A business analyst would be responsible for making the reports, KPI(Key Performance Index) matrix, trends in the data which would help the organization | A data analyst would just play with the data to find patterns, correlations and even build models to see how the data responds to his/her models. |
| Process | A business analyst would do a static and comparative study of the data. | A data analyst would do an explanatory analysis and then will try to experiment with data mining processes so as to give a good visual representation of the data. |
| Data Sources | A business analysts would pre-plan his/her sources of data as to what all are necessary and which should be excluded which is a slow process. | A data analyst finds a correlation on some data which is not a part of his earlier dataset then he/she would add the data source on the fly as needed. |
| Transform | A business analyst would transform the data upfront which is carefully planned. | All the transformations are done in-database and whenever there is a demand to enrich data it is done on the fly. |
| Data Quality | A business analyst would always present the data as a single version of truth | A business analyst would go by the phrase "Good enough" or theoretically with the probabilities |
| Data Model | A business analyst would go with schema on load data model | A data analyst would go with schema on query data model. |
| Analysis | Retrospective, descriptive | Predictive, prescriptive |
| Field | A subset of computer science and management where the study of data is done by using different methods and technologies | Covers entire technological field which is a superset of Data Science |