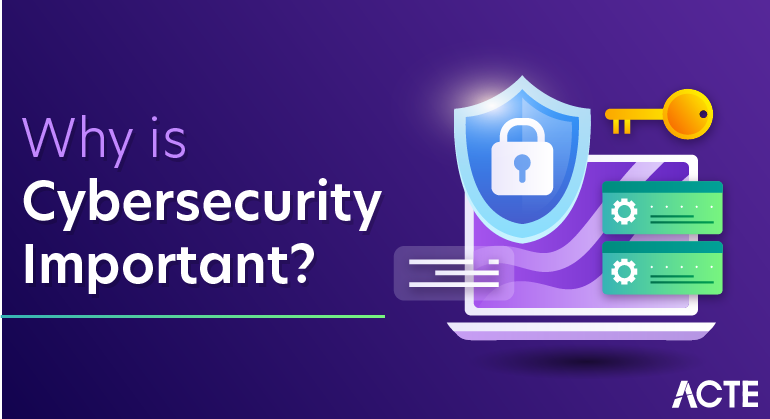 Why is Cybersecurity Important? | A step by step Guide
Last updated on 08th Jul 2020, Blog, Tutorials
Cyber security deals with protecting anything connected across the network. This includes:
Hardware like desktops, laptops, servers and mobiles
Software like communication and work applications
Data in transit and at rest.
Cyber security is the practice of securing networks, systems and any other digital infrastructure from malicious attacks. With cyber crime damages projected to exceed a staggering $6 trillion by 2021, it's no wonder banks, tech companies, hospitals, government agencies and just about every other sector are investing in cyber security infrastructure to protect their business practices and the millions of customers that trust them with their data.
The importance of cybersecurity
1.Cyber security's importance is on the rise. Fundamentally, our society is more technologically reliant than ever before and there is no sign that this trend will slow. Personal data that could result in identity theft is now posted to the public on our social media accounts. Sensitive information like social security numbers, credit card information and bank account details are now stored in cloud storage services like Dropbox or Google Drive.
2.The fact of the matter is whether you are an individual, small business or large multinational, you rely on computer systems every day. Pair this with the rise in cloud services, poor cloud service security, smartphones and the Internet of Things (IoT) and we have a myriad of cyber security threats that didn't exist a few decades ago. We need to understand the difference between cyber security and information security, even though the skill sets are becoming more similar.
Governments around the world are bringing more attention to cyber crimes. GDPR is a great example. It has increased the reputational damage of data breaches by forcing all organizations that operate in the EU to:
Communicate data breaches
Appoint a data-protection officer
Require user consent to process information
Anonymize data for privacy
3.The trend towards public disclosure is not limited to Europe. While there are no national laws overseeing data breach disclosure in the United States, there are data breach laws in all 50 states. Commonalities include:
The requirement to notify those affect as soon as possible
Let the government know as soon as possible
Pay some sort of fine
4.California was the first state to regulate data breach disclosures in 2003, requiring persons or businesses to notify those affected "without reasonable delay" and "immediately following discovery". Victims can sue for up to $750 and companies can be fined up to $7,500 per victim.
5.This has driven standards boards like the National Institute of Standards and Technology (NIST) to release frameworks to help organizations understand their security risks, improve cybe rsecurity measures and prevent cyber attacks.
Cyber security and its advantages
Protection from viruses Cyber security offers protection from all kinds of virus attacks, worms, malware attacks, Spyware etc. Which may cause serious threats to your system or network.
Protection from data theft Data theft is a major problem faced by individual users. Cyber security prevent data theft. You can protect your data from theft. Proper disposal of sensitive data etc.
Protection from hackers Protects your system and network from being hacked. You can use the following measures to get rid of hackers: Use tough passwords, keep on changing your password at least in every week, by clearing your browsing history, try to avoid WI-Fi, use anti-virus protections etc.
Reduces computers crashes Reduce your computer slow down and freezing. Boost the performance of your system. Automatically recovers from serious errors.
Gives privacy to users Provide more privacy to the users. Allows you to store your data and files anywhere. Without any fear of cyber attack.
How to Learn Cyber security? Self learning from books, internet Learn from professionals at Home Institute Online UrbanPro.com helps you by connecting you with Cyber Security professionals, tutors, institutes to take your career forward!
Best cyber security strategy
A strong security infrastructure includes multiple layers of protection dispersed throughout a company's computers, programs and networks. With cyber attacks occurring every 14 seconds, firewalls, antivirus software, anti-spyware software and password management tools must all work in harmony to outwit surprisingly creative cyber criminals. With so much at stake, it's not hyperbolic to think that cyber security tools and experts act as the last line of defense between our most vital information and digital chaos.
Common threats for cyber secuity
Network intrusion
This is any unauthorized activity on a computer network from an outside source. Intrusions not only consume bandwidth, they're also designed to do harm like stealing data.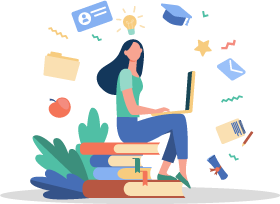 Best Advanced Cyber Security Training with In-Depth Practical from Industry Experts
Instructor-led Sessions
Real-life Case Studies
Assignments
Explore Curriculum
Phishing
Phishing uses false pretends to steal information like passwords and credit card details. A phishing attack poses as a legitimate email, SMS, Instant Message or website from an organisation you know.
Ransomware
Ransomware will either lock your computer to prevent access, or threaten to make sensitive files public. Hackers promise to unlock your system when a ransom is paid.
Rootkit
A rootkit is a program that allows hackers to hide other malware like spyware and viruses on your computer.
Spyware
Spyware tracks what you're doing. It collects information like passwords, credit card numbers, web browsing and email addresses and uses it for malicious purposes.
Trojans
Named after the Trojan horse of antiquity, Trojans are malicious programs in disguise. They don't replicate but they do create a backdoor that gives hackers control of your computer.
Virus
A virus is malicious software that replicates itself when activated so it can spread to other computers and files. The aim varies – deleting data, stealing passwords, making documents unusable, spamming contacts and more.
Zero-day exploit
This is a vulnerability that has not been discovered by software or security vendors. The vulnerability can be exploited until it is detected and patched, when it stops being zero-day.
Benefit From a Cyber Security Solution
It Can Protect Your Business – The biggest advantage is that the best in IT security cyber security solutions can provide comprehensive digital protection to your business. This will allow your employees to surf the internet as and when they need, and ensure that they aren't at risk from potential threats.
Protects Personal Info – One of the most valuable commodities in the digital age is personal information. If a virus is able to obtain personal information regarding your employees or customers, they are quite capable of selling that information on, or even using it to steal their money.
Allows Employees to Work Safely – Without the best cyber security solutions for your business, you and your employees are constantly at risk from a potential cyber-attack. If your system, or even individual computers, become infected than that can really hamper their productivity and even force you to replace computers.
rotects Productivity – Viruses can slow down personal computers to a crawl, and make working on them practically impossible. This can cause a lot of wasted time for your employees, and can often bring your entire business to a standstill.Stop Your Website from Going Down – As a business, the chances are you're hosting your own website. If your system becomes infected, there is a very real chance that your website be forced to shut down. This means that not only will you be losing money from missed transactions, but you will also lose customer trust and certain viruses can often do lasting damage to a system.
Denies Spyware – Spyware is a form of cyber infection which is designed to spy on your computer actions, and relay that information back to the cyber-criminal. A great cyber security solution, such as Fortinet's FortiGate firewall, can prevent this spyware from taking effect and ensure that your employees' actions remain private and confidential within your workplace.
Prevents Adware – Adware is a form of computer virus which fills your computer with advertisements and is fairly common. However, all these adverts can really have an impact on productivity and can often allow other viruses to enter your computer once you've accidentally clicked on them.
A Consolidated Solution – The very best kinds of IT security for your business will offer a comprehensive solution to protect against a diverse range of issues. Ideally, your security needs to include a firewall, anti-virus, anti-spam, wireless security and online content filtration. Discover how your business can benefit from a layered security approach with Fortinet Security Fabric.

Cyber Security Sample Resumes! Download & Edit, Get Noticed by Top Employers! Download

Support Your IT Expert – It might be unpleasant to hear, but most cyber-criminals will have much more experience than your average employee when it comes to digital crime. The best IT security systems can provide your team with the features and support that they need to effectively fight against even the most determined criminal.
Inspire Confidence in Your Customers!– If you can prove that your business is effectively protected against all kinds of cyber threats, you can inspire trust in your customers and clients. They will then feel more confident when purchasing your products or using of your services.