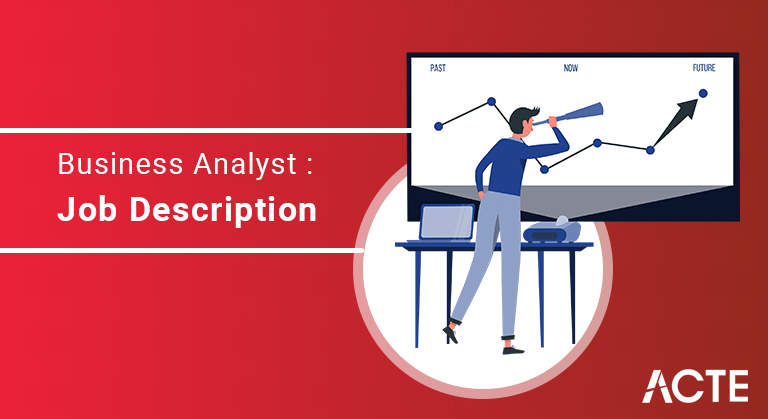 Business Analyst : Job Description | All you need to know [ Job & Future ]
Last updated on 25th Dec 2021, Blog, General
Overall, business analysts bridge the gap in understanding between the management of an organization, and the complex data and technical systems businesses use in hopes of improving processes and helping impact decision-making.
Introduction to Business Analyst
Typical Business Analyst Responsibilities
Skills of a Great Business Analyst
Salary Outlook
Expected Education and Certification
Potential Business Analyst Interview Questions
Professional Organisations and Associations
Brush up on your Business Analyst Knowledge
Benefits of Business Analyst Requirements
Conclusion
Introduction to Business Analyst:

Business analysts are responsible for understanding and assessing the changing needs of the business. They are often asked to analyse the effects of change, document and support communications between relevant groups and stakeholders, and capture the needs needed to initiate change.

At times, business analysts act as a liaison between groups or departments. They become the middlemen who help translate support and needs across business units and functions.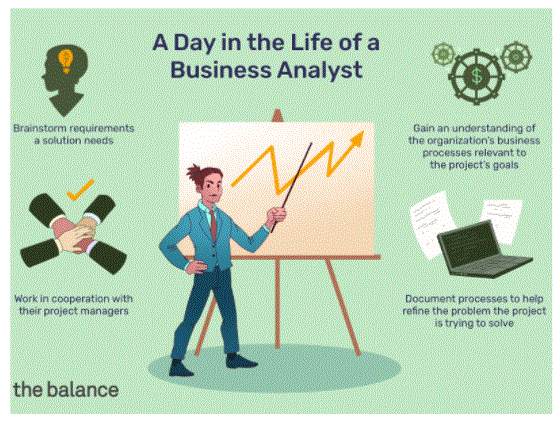 Typical Business Analyst Responsibilities:

The day-to-day tasks of a business analyst vary greatly depending on their industry, department and projects. That being said, many business analysts find themselves acting and working with different groups, departments, and team members. Business analysts will hear new ideas and requests every day. They must understand when and where to act, and which requests will be most important to the success of the business's ultimate goals. In general, they will be responsible for:

Prioritise the needs of different stakeholders.
Communicate, translate and streamline business requirements to ensure purchases from all stakeholders.
Assess change-propositions and define solutions to help the organisation achieve its goals.
Find, organise and clarify business requirements and review/produce specifications for change.
Work with technical analysts and the development team to ensure they understand specifications.
Work with the training team to document system scenarios and identify affected roles to help develop a change management/training plan.
Conduct business process modelling and prepare applicable scenarios for the technology performance testing team.
Skills of a Great Business Analyst:

First and foremost, business analysts are communicators. They work with multiple stakeholders and must be able to communicate the needs, requirements and solutions of different departments. But they don't do just that; Great business analysts have many skills, including:

Exceptional ability to position and "sell" appropriate, actionable and cost-effective solutions, which includes the ability to precisely measure requirements and "plug" appropriate solutions.
Removing red tape is forward thinking and resourceful and brought in to ensure solutions and requirements are properly sealed. Ability to solve and apply problems such as unified modelling language and logically integrated process to produce detailed specifications using case statements and related documentation.
People skills, with the ability to diplomatically engage with stakeholders and communicate changes that may not conform to original expectations Knowledge of proper requirements specification and development, such as process/functional requirements definition methods, JAD/RAD sessions, use case development, process flow diagrams.
Agile and working knowledge of waterfall methods.
Salary Outlook:

Business is becoming more complex due to globalisation, and the need for business analysts is expanding. As companies work hard to innovate and stay ahead of the competition, business analysts are an important piece of the puzzle toward making organisational improvements.

According to Glassdoor, the median base salary for business analysts in the United States is $70,887. The more specialised the role, the higher the salary. For example, Villanova University cites $92,600 as the average salary for an information security analyst. Likewise, the more experience you gain as a business analyst, the more likely you are to land a larger, more complex project — and a higher salary as a result.
Expected Education and Certification:

Most employers will be looking for at least a bachelor's degree, usually in business administration. While it's possible to get a job as a business analyst without a specific certification, holding a certification shows potential employers that you understand the basic essential skills and are familiar with the role, even if you don't have practical experience.

Certified Business Analyst Professional (CBAP): The International Institute of Business Analysis (IIBA) runs a certification program with several options, including entry-level.

Professional in Business Analysis (PMI-PBA): The Project Management Institute (PMI) puts a solid methodology and pedagogy behind its certification program. Some previous experience is required to enrol in this program.

Requirements Certified Professional for Engineering (CPRE): The International Requirements Engineering Board (IREB) lays a good foundation for requirement gathering, verification and validation. There are no prerequisites in their Foundation Level Certificate Program.

Certified Scrummaster (CSM): This Scrum Alliance certification program has no prerequisites, and serves as a great starting point for further certification.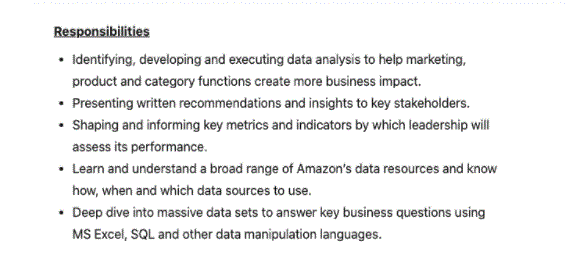 Potential Business Analyst Interview Questions:

With communication skills at the core of your role as a business analyst, you'll need a strong interviewee to land the job. Show your strength and come prepared for any question. Here are some to consider to get started:

What analysis and modelling techniques and methodologies do you apply to your job as a business analyst, and why?
How would you deal with a stakeholder who insists that a complex process is the ideal solution to a problem?
Tell me how you've created long-range plans for a business in the past, including diagrams and/or other materials that you use to describe their needs, and that helped you convey technical information in a clear and tasteful way. How did the presentation help?
What equipment or systems have you worked with?
How do you handle last-minute changes to a requirement?
How do you know when a requirement is met?
How do you manage a difficult stakeholder?
Where do you go when you're researching new solutions for a need?
How do you go about prioritising requirements from different stakeholders with similar deadlines?
In the [x] case, which method would you apply? Tell me about your reasoning and solution you can propose.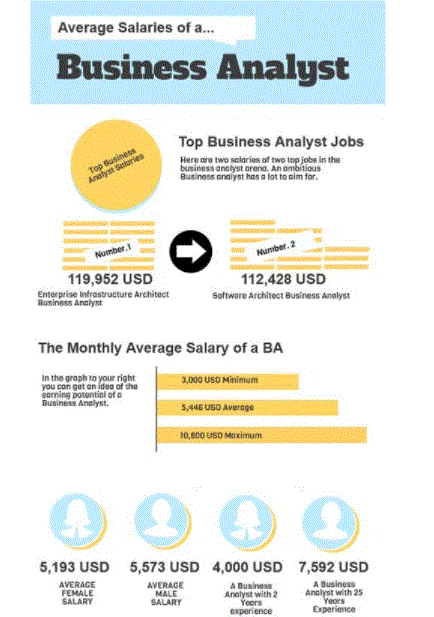 Professional Organisations and Associations:

Joining a professional organisation demonstrates your commitment to the role, and helps develop your professional network. You can stay abreast of new skills, innovations and latest news in the field of business analysis.

International Institute of Business Analysis
Association of Business Process Management Professionals agile combine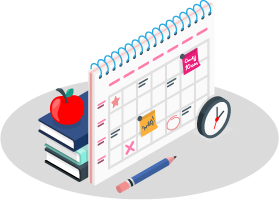 Develop Your Skills with Business Analyst Certification Training
Weekday / Weekend Batches
See Batch Details
Brush up on your Business Analyst Knowledge:

Staying up-to-date on the latest business analyst best practises includes self-learning. There are many ways and places to expand your skills, from reading blogs and attending conferences, to taking a free course online.

BA Times: Articles, White Paper, Program. Business Analytics Specialisation: While this is a paid course, you can usually audit a class to gain skills, you will miss out on the project portion of the class.

Bpmnext: Business Process Management conference featuring advances in cutting-edge technology and best practises of BAThe business analyst is the link between the end user and a project manager. The requirements of business analysts may vary between positions and the key responsibilities of a business analyst may vary from company to company, but their main purpose is to analyse, evaluate and refine processes.
Benefits of Business Analyst Requirements:

Bachelor's degree or MBA in business or related field.
Minimum 5 years experience in Business Analysis or related field.
Exceptional analytical and conceptual thinking skills.
Ability to influence and work closely with stakeholders to determine acceptable solutions.
Advanced technical skills.
Excellent writing skills.
Fundamental analytical and conceptual thinking skills.
Experience in creating and delivering detailed reports.
Proficiency in Microsoft applications including Word, Excel and Outlook.
A track record of following through on commitments.
Excellent planning, organisational and time management skills.
Experience leading and developing top performing teams.
History of leading and supporting successful projects.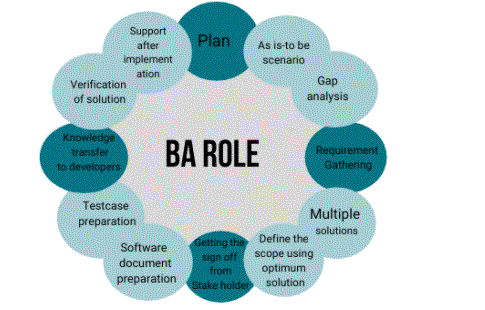 Business Analytics with R Sample Resumes! Download & Edit, Get Noticed by Top Employers!
Download
Conclusion:

Business analyst roles and responsibilities typically require strong technical skills and ideal candidates will need to be aware of the latest trends in technology to be able to develop the best solutions for their project teams. Technical skills are even more important for companies hiring IT business analysts, so be sure to specify business analyst qualifications when you post the position.

When you advertise a business analyst job, your business analyst position description should include the qualities and skills you want to acquire in your next hire. Feel free to edit any section of our Business Analyst job description sample. Include additional requirements for business analysts or expand the functions and duties of business analysts. Whether you are looking for an IT business analyst, non-IT business analyst, or a junior business analyst job description, our business analyst job postings can be edited to reflect your specific needs.