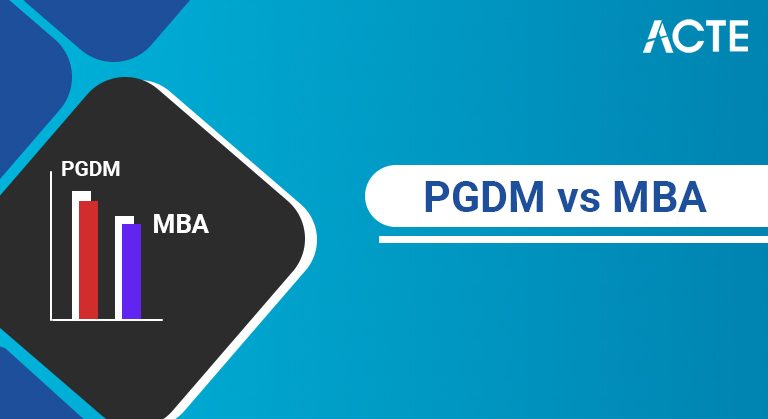 PGDM vs MBA | Know Their Differences and Which Should You Learn?
Last updated on 19th Dec 2021, Blog, General
The first and basic difference between the two programs is that the MBA is a Degree program whereas a PGDM is a diploma program. An MBA program is offered by a government or private university or a college affiliated with a university.
Introduction to PGDM vs MBA
Let's see how the MBA and PGDM are similar
Features of PGDM vs MBA
So what are the striking differences between MBA and PGDM?
Curriculum
Teaching Methodology
Entrance Exam Criteria
Fee Structure
The legal difference between MBA and PGDM
Conclusion
Introduction to PGDM vs MBA:

Prima facie, MBA stands for Masters of Business Administration and PGDM for Post Graduate Diploma in Management. Although both programs are for a period of two years and are offered for outstanding B schools to prepare those looking for a more lucrative management job, there are significant similarities and differences between the two.
Let's see how the MBA and PGDM are similar:

The MBA and PGDM are inseparable when it comes to admission to industry or higher education.

Both programs teach management skills, and the level of education offered by the b-school, unique value propositions, track record of its alumni and the number of graduates brought to the table are important to employers.
In fact, in b schools that offer a one-year administrative 'certificate' program, also called PGPM or PGP or other names depending on the elementary school, employers do not even distinguish between these students and PGDM students.
Recruitment is done solely on the basis of work experience, background and skills of hiring skills and how students meet their needs.
The same can be said of pursuing higher education, such as a PhD or a Fellowship program. A PGDM Diploma is valid for pursuing a PhD as is an MBA degree. At the graduation level, graduation was always viewed as a high price compared with a diploma.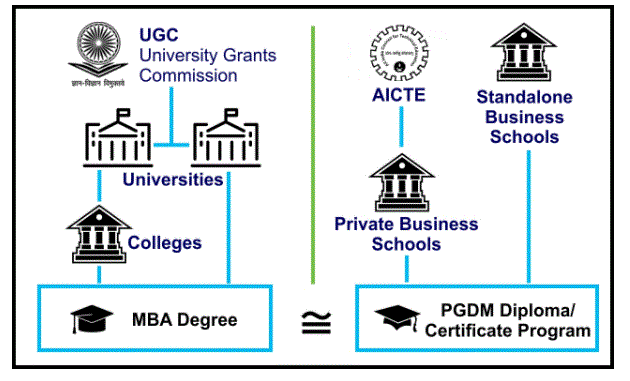 Features of PGDM vs MBA:

Some of the highest paying jobs for PGDM graduates are:

Investment Banker – Investment banking salaries vary widely from different firms, but the average initial income may be between 8 and 10 lakhs per year and can reach 50-80 lakhs after a few years of experience.

Project Manager – Compensation of project managers can be approximately 20 lakh per year depending on the city and the company.

Management Consulting – Wages depend on a variety of factors, yet management advisers can earn between 20-30 lakhs a year.

Business Development Manager – Business Development Managers are well compensated. Their average salary ranges from about 15 lakhs p.a. However, working with top companies may extend this figure far too far.

Marketing Manager – Some of the highest paid employees come from Marketing departments. The average salary of sales managers can be somewhere near 12 lakhs per performance bonus not included in this figure.

Sales Manager – As they make an income, the initial earnings stand at an average salary of 8 lakhs per year.

Business Analyst – Business analysts can raise revenue between Rs 5 Lacs to Rs 11 Lacs initially.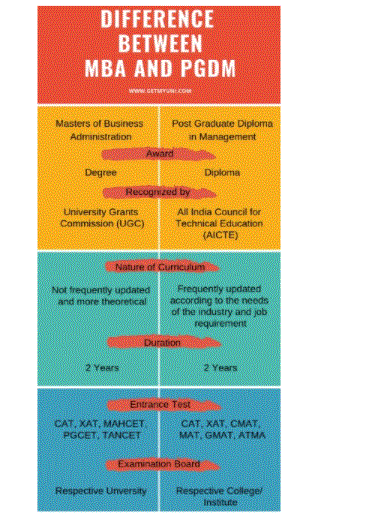 So what are the striking differences between MBA and PGDM?

In short:

Business schools (or private MBA colleges) that offer PGDM can revise their curriculum to respond to changes in business needs and industry behavior. They can quickly adapt to new models, tools and technologies to bring quality education to their students. Universities deal with such reviews in a timely manner, especially in 3 to 5 years.

Private schools that offer PGDM courses can also benefit students by inviting visiting teachers from around the world for advanced reading experience. In addition, business schools that specialize in the PGDM program on campus also focus on the full development of students through courses and activities based on soft skills and leadership, extracurriculars and strong sector collaboration through guest courses.

If you are looking forward to investing two years of their lives in any of these exciting programs, you should fully understand their value propositions, contributions and industry vision before making any decision.

Learn Project Management and Methodologies Certification Training to Build Your Skills

Weekday / Weekend Batches

See Batch Details

Long story:

Degree vs Diploma: The first and main difference between the two programs is that MBA is a Degree program and PGDM is a diploma program. The MBA program is offered by the government or private university or college affiliated college. Only these universities, under the auspices of the University Grants Commission (UGC), can award degrees.

The PGDM program is provided by AICTE accredited schools and private/private schools, under the auspices of the Department of Human Resource Development (HRD), which are not under the UGC. However, it is important to note that the corporate world does not distinguish between the two. Graduates in both programs are equally qualified for the same type of administrative duties.

The 20 existing IIMs, however, under the IIM Act of 2017, were declared National Institutions of Honor and were accredited for awarding MBA degrees, before which they issued diplomas like all independent schools.

Therefore, instead of a name, you should focus more on determining high quality such as intelligence, curriculum, campus, peer group, standards and accreditation, and placement, in order to determine what program can put you in the test for promising employees.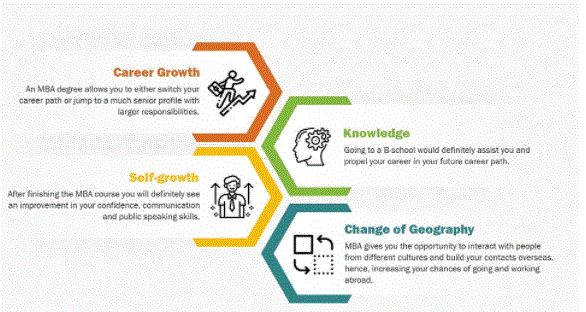 Curriculum:

MBA programs typically have the same program and area unit typically natural in theory. there's some resilience within the program review to stay pace with changes in trade and economic state of affairs. Such revisions occur over an amount of 3-5 years. freelance universities like NMIMS and mutualism, however, review their program often.

The PGDM program, on the opposite hand, will be revised or updated from a b-school perspective, and maintained to this point with new trade wants and standards. This permits colleges to take care of competitive advantage, and such competition encourages new program development and pedagogy. Such programs even have a lot of space for learning supported sensible performance compared to pure theoretical learning.

In fact, any sensible PGDM program will have the involvement of trade veterans in program style. These veterans bring foresight that encourages the incorporation of rising and turbulent technologies like AI, style Thinking, and Business Analytics into the management course.

In these lines, one ought to additionally note that Master in Business Administration exams are a unit conducted by completely different universities in which all schools underneath a specific university could have constant exams. Within the case of IIMs and personal colleges, the tests area unit travel by the faculties themselves, to an outsized extent, United Nations agency management their own assessment technique.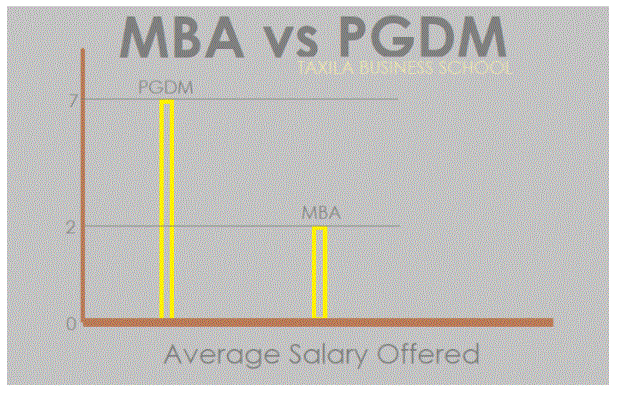 Teaching Methodology:

The advanced PGDM program offers more than just classroom teaching. Case study pedagogy is very important in PGDM studies as these situations help to understand the application of concepts in real time and are based on past and present business contexts that have shaped the industry over the years. Learning takes place outside the classroom and, in the form of extracurricular activities, social media programs, events, competitions, etc., develops many soft skills that are important for management professionals.

Students in the PGDM program also have the opportunity to interact with many thought leaders and CXOs during intense industry interaction programs that help them gain a sector perspective and blur the line between theory and practical practice. For example, the PGDM program offered at the Great Lakes Institute of Management includes live projects, summer internships with leading companies, as well as regular guest talks, conclaves and symposiums – all helping to develop strong leadership, management skills and critical job analysis. effective management.
Entrance Exam Criteria:

Both programs settle for voluminous varied competitive tests like CAT, MAT, GMAT, XAT & CMAT. Just in case of MBA programs, several universities and faculties additionally settle for scores obtained in individual state level tests like MAHCET, TSICET, PGCET & TANCET. Many high faculties additionally conduct their own tests like XAT (XLRI), SNAP (Symbiosis) & IIFT communicating (IIFT).

There is no one-size-fits-all idea just in case of entrance tests. The Indian faculty of Business (ISB), for example, doesn't settle for CAT scores, that is the most generally accepted one in the Republic of India. PGDM faculties may additionally not have an exact entrance score cut-off, however a secure score criteria since shortlisting would additionally rely upon different factors like past tutorial and skilled performance, achievements, diversity of background, and so on. These take a look at scores are an important entry purpose into faculties of your alternative. Therefore, you wish to grasp that at the well-liked, take a look at scores at those faculties, and their cut-off or safe score necessities, so prepare accordingly.
Fee Structure:

As MBA programs are offered to universities and colleges, many of which receive grants from the UGC and government grants, their funding is low. The Faculty of Management Studies (FMS), one of the top MBA colleges in India, under Delhi University, charges INR 1.92 lakhs for its two-year MBA program.

The PGDM program is undoubtedly a major investment. As institutions and private business schools that run PGDM programs, especially those on campus, incorporate all their own costs, the result is reflected in the form of very high program costs. However, these funds are used to provide state-of-the-art infrastructure, allow for the exposure of global intelligence, and deliver a high-quality curriculum that students prepare for highly desirable jobs. Several banks and financial institutions offer loans at interest rates suitable for such high-quality PGDM programs.
The legal difference between MBA and PGDM:

Both establishments (AICTE associated with UGC) are established by an Act of Parliament for teaching. Programs approved by these bodies are thus de jure binding. meaning that the PGDM or MBA at each postgraduate programs and have a similar legal love Government jobs or pH.D. she is troubled. Some universities whereas enrolling pH.D. PGDM students might need an associate equity certificate that may be simply obtained from the AIU or the Indian University organization.

PGDM courses are past establishments liable for student choice, syllabus style, training, assessment and eventually placement. Throughout associate MBA, the course is meant by universities and instructed by the associated schools. Here is that gap! Students begin an associate MBA-like course in history and specialize in program success. Also, universities don't modify their information for many years.

MBA students throughout a Career interview notice it tough to answer queries as interviewers usually raise questions on the most recent designs. PGDM may be a one-window program that allows the reader to become highly competent and progress with the most recent trends within the market. The MBA is incredibly theoretical whereas the PGDM is incredibly sensible. This conjointly limits PGDM students whereas participating in job interviews.

I have been a prof and Chair of the institution of 1 of the highest B colleges. we have a tendency to still have pool field driving in faculty for each PGDM and MBA students from varied schools and universities. In fact, I found concerning half-hour MBA students elected for a similar job within which seventieth of PGDM students were placed.

PGDM is obtainable associate application for five hundred B colleges whereas associate MBA is for 5500 Universities and schools. The tiny provider of PGDM creates a good want for them.

The PGDM is generally offered by personal establishments, which suggests they solely provide one program, in order that they are targeted whereas the MBA is obtainable to Universities and schools that provide 10s of different courses and, they unfold the main target among such a big amount of courses. The student might need to pursue a pH.D., the other course in PGDM or MBA.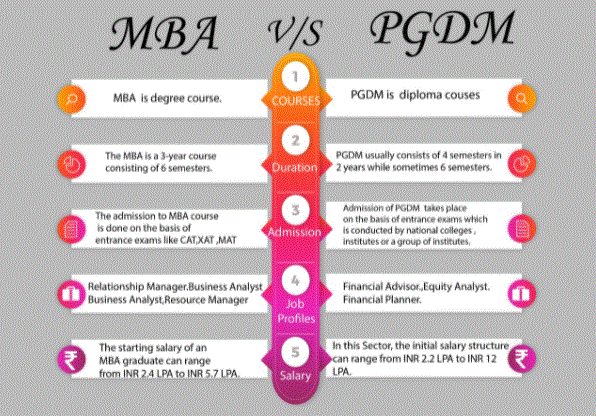 Conclusion:

Lastly, what is your main goal in life? What do you want to do with your management qualifications? What kind of work do you see in the future? This should be a major determinant of choosing your plan. You may also be wondering what your interests are in terms of system (campus or otherwise), location, and immediate job outcomes? You may also want to consider how much you are willing to spend on it.

Strategy Management Sample Resumes! Download & Edit, Get Noticed by Top Employers! Download

A PGDM course from any high school will give you a very rewarding career. PGDM graduates may have a particular perspective due to program teaching and close collaboration with the industry, which helps them stay active and important in the industry for a long time. However, an MBA from a prestigious college or university, with a long history in the industry, can also help you achieve some immediate career goals at a fraction of the cost.

PGDM courses follow an industry-focused curriculum in a practical way while an MBA is used as a theory.

PGDM courses are preferred over the MBA by various employers within India and abroad, due to the practical PGDM courses offered.
Strong classes and courses from senior industry leaders and management internships are a common feature that prepares students for a business environment beforehand.
Institutions with PGDM, self-driving, work harder than MBA graduates, placing their students in various companies.
There are great job opportunities for PGDM students due to additional and updated skills.
Private colleges have a high standard syllabus that is updated periodically but universities are not allowed to change the syllabus frequently.
The world has changed a lot since then, so syllabus and textbooks need to change constantly.