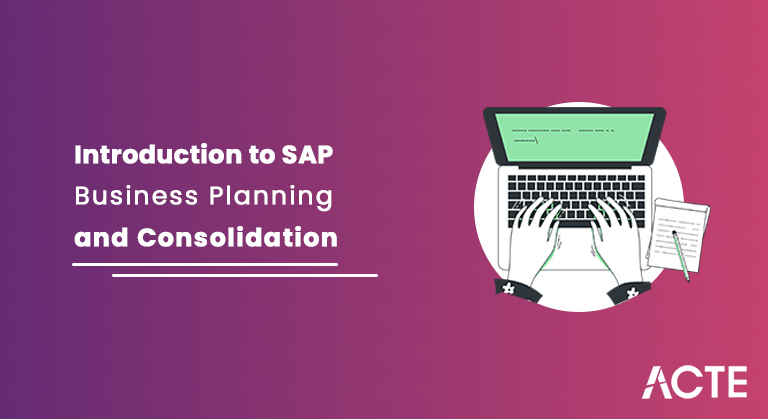 SAP BPC – What is Business Planning and Consolidation? : All you need to know [ OverView ]
Last updated on 07th Jan 2022, Blog, General
Introduction to SAP Business Planning and Consolidation:

SAP BPC is a SAP module that provides planning, budgeting, forecasting and financial consolidation capabilities. SAP BPC stands for Business Planning and Consolidation. It provides a single view of financial and operational data and an integrated solution that supports performance management processes such as adjusting plans and forecasts or accelerating budgeting and closing cycles.

It provides built-in functionality for:

Strategic plan
Budget
Reporting
Forecast

SAP BPC Finance has two platforms. It's almost 80% the same functionality except for the difference in the back-end. Each platform has two versions.

SAP BPC MS (Microsoft Platform) – SAP BPC 7.5 MS and SAP EPM 10
SAP BPC NW (NetWeaver Platform) – SAP BPC 7.5 NW and SAP BPC 10 NW.
Like any other module, the SAP BPC module also contains master and transaction data. BPC in SAP is divided into two components called "Administration" and "Reporting".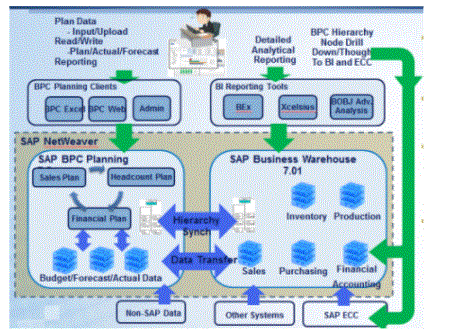 SAP BPC Overview:

Financial planning, budgeting and forecasting are important qualities for any organisation to run a business successfully. SAP BPC software provides everything in one package.

Integrated – planning and consolidation into one product. Single application reduces maintenance, increases data integrity, and simplifies deployment. It also enables flexible planning and consolidation functions.

Owned and Managed by Business Users: – Business users manage processes, models and reports with less IT dependency.

An open, adaptable application: – Enhances the value of your investment in both SAP and non-SAP environments

Familiar, easy-to-use: – Easy to use and supports native Microsoft Office tools (such as Excel) and a web browser that accesses the central database.

Align financial and operational plans:- It helps in setting financial goals and operational plans with strategic objectives.

Reduce budget cycle time:- It helps in reducing budget cycle time.

Strategic plan

It helps the management team to formulate its vision, mission, core values and objectives. The team develops strategic plans to maintain its competitive advantage in the marketplace. It helps them to answer the following questions.

Budget

It is not merely a prediction of future outcomes. It is also a plan of the organisation's actions and expected operations in the next year. The budget is prepared for active management and measurement of corporate performance.

Reporting

This ensures that performance progress is monitored, problems are anticipated, and continuous improvement efforts are promoted.

Forecast

It is the act of predicting the results. This is done to show the changes in the internal and external environment throughout the year. What determines how the internal or external environment affects the original plans and budget? The main objective is to provide less risk management planning and more accurate information for decision making.
What is EPM in SAP?

The use of EPM solutions is becoming widespread in the financial divisions. It is similar to CPM (Corporate Performance Management), BPM (Business Performance Management) and FPM (Finance Performance Management). EPM is being used as a unique repository for managing relevant information.

Business needs benefits and features:

Process Control Business Process Flow (BPF) Techniques for Context-Driven Workflow and Process Efficiency
Centralised data and application management
Status monitoring and workflow management
Role-based security and user authentication
Dimensional audit trail for budget, forecast and actual
Version control supports any number of versions
Data lockdown as per dimension or specified period
Compliance and auditability audit follows the history of the entire planning, reporting and forecasting
"A Single Version of the Truth" at reported numbers
Data-based transparency – and data change – visibility
Ensures accountability as belief in numbers increases ownership responsibility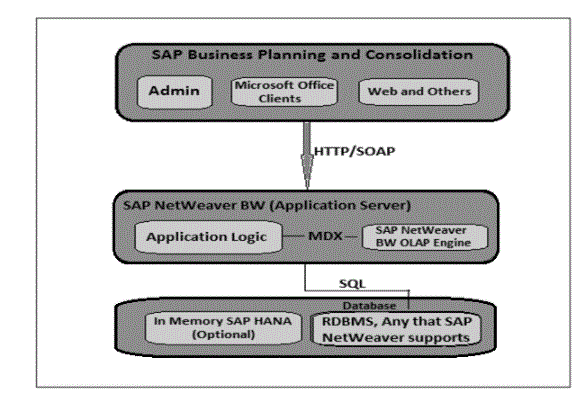 SAP BPC Architecture:

SAP BPC Architecture. It uses various business rules and script logics for planning. The major components in the BPC architecture are shown in the image below.

BPC Administration:

BPC Administration allows administrators to perform maintenance and setup tasks for BPC client applications.

BPC financial administration has two interfaces; A client application and a web interface. The Administration Actions pane lists the actions available for both interfaces.

To start BPC administration
Any of the following will work
Open a browser and type http://<'server name>/osoft, where <'server name> is the name of your BPC server.
From the Windows Start menu, choose SAP > BPC
From your Windows desktop, click on the BPC icon
From the Launch page, select BPC Administration
From the Administration Actions pane, select the task you want
The console client is a Microsoft Explorer-like window. Where we manage items such as application sets, applications, business rules, dimensions and business process flows. The browser allows client applications to set and control application properties, as well as to maintain BPC web parameters.
Creating a new dimension:

Dimensions represent the entities of a business (eg, accounts, company codes, and categories). They represent master, text, and hierarchy data for each business entity.
It is possible to create new dimensions in a BPC application set. There is no restriction to create multiple dimensions in SAP BPC. These dimensions then become shared dimensions that are available for use in any application within the appset.
Some dimensions are required dimensions. It must be present in all applications within the application set. Whereas the dimension type determines the default properties to be included in the dimension. It is possible to add additional properties as needed.

Dimension Type
required in each application
A = Account Type Dimension
C = Category Type Dimension
E = Unit Type Dimension
t = time type amplitude
Required in each application set
R = Currency Type Dimension
Need to validate currencies that are input to the entity type dimension. This application cannot be part of any application within the set

Develop Your Skills with Advanced SAP BPC Certification Training

Weekday / Weekend Batches

See Batch Details

Required for Intercompany Elimination
I = Intercompany
It is also possible to make additional dimensions as required
Un = User defined dimension type. For each user-defined dimension, the number 'n' will be incremented. for example; U1, U2, U3 etc.
make dimensions
Select Dimensions Library on the left. The Actions pane will display related dimension tasks.
To create a new dimension, click "Add New Dimension".
Similarly, it is possible to copy, modify, process and delete dimensions. When adding dimensions, you must enter a reference type.
Further in this SAP BPC training, we will learn about BPC reporting.
BPC Reporting:

BPC for Office combines the power of BPC with the rich functionality of Microsoft Excel, Word and PowerPoint. With BPC for Office, we have all the functionality of Microsoft that we are used to. On top of these documents, worksheets and slideshows can be linked directly to the BPC database which contains company reporting data.

BPC for Office allows to collect data, generate reports, perform real time analysis and publish reports in various formats. You can save your reports so that you can use them disconnected from the database. You can take reports completely offline and distribute them based on user access rights

BPC Security:

Users: This is used to add users to the environment and manage their access rights

Teams: You can define a group of users with the same access rights

Data Access Profile: It enables setting up profiles for the tasks to be performed.

Task Profile: This is used to set up profiles and enable access to data in models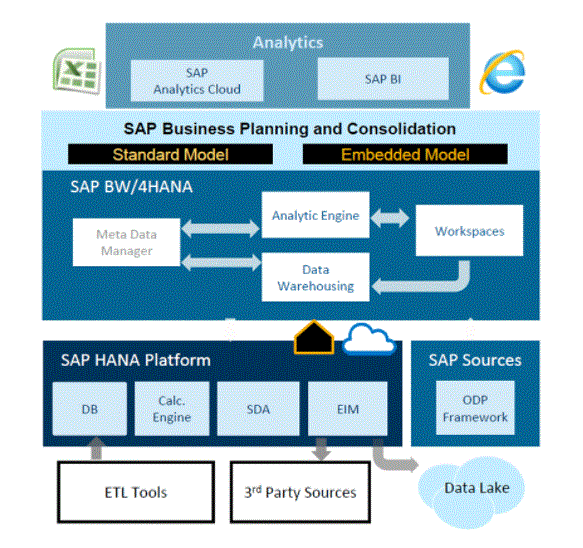 SAP BPC Customer Profile:

There are over 6,000 BPC customers around the world. While they all share a basic common set of capabilities, due to the flexible nature of the platform, each customer has a unique BPC implementation. They can configure solutions with their "secret sauce" and other best practises to give them a competitive edge in their industry. Customers range from small and medium-sized businesses to the top ten members of the Fortune 500.

SAP bpc today:

BPC also includes Business Process Flow (BPF) which can be used as a formal workflow for both financial and operational processes, or as a menu to organise various assets including input forms, reports, books and dashboards. can be used as

BPC attracts users with its innovative user experience including native Excel integration. The founders of BPC at Outlook Soft understood that Excel was important for financial users to carry out their daily tasks. Copying and pasting information into a proprietary tool or using a web interface cannot match the flexibility, power, variety, and convenience of Excel. They successfully turned Excel into a "window for databases" and they removed many of the traditional pain points associated with Excel.
Core Capabilities:

Plan

Planning is generally defined as a long-range plan spanning several years, which can be entered into any combination of periodicity (weeks, months, quarter years). Some companies use models with strategic or long-range planning that run years or even decades into the future. These plans are usually at a higher level than budgeted or forecast. The planning cycle also combines various types of financial and non-financial information to form a complete view. BPC provides a platform to integrate business planning, strategy, operations and financial processes.

Budget

A budget cycle is a complete outlook for the upcoming year based on your business calendar. Some budgets begin with predefined assumptions or goals (top-down), while others begin with a set of detailed inputs from various participants in the organisation (bottom-up). It is quite common for organisations to develop a budget that contains a combination of both top-down and bottom-up assumptions, with multiple versions being developed during an iterative and collaborative process.

Forecast

Many companies have abandoned the traditional 12-month budget in favour of a rolling forecast, which looks at the remaining months of the year and a full 12-18 months (or more) into the future. BPC simply combines actual periods with forecast periods into a category or version. It facilitates more efficient reporting and analysis. For example, the May forecast version (category) will have four periods (January–April) of actual data, and at least eight periods of forecast data. It allows users to easily compare the current forecast with the previous forecast periods.

Consolidation

BPC has built-in financial intelligence, including strong legal and management consolidation capabilities. These capabilities include the ability to import data from various data sources. SAP BPC customers can enjoy a variety of integration options including real-time integration with SAP's leading ERP solution, S/4HANA. BPC also fully supports non-SAP ERP systems. Many BPC users have multiple ERPs – One of our clients had so many acquisitions that they consolidated over 90 different GLs with different COA's. Additional consolidation features include currency translation, intercompany elimination, allocation, fractional ownership, equity pick-up, journal, and reporting and analysis. Reporting and analysis features include P&L, balance sheet, cash flow statement to accommodate internal and external financial reporting needs.

Legal and management reporting and analysis for both operations and finance

BPC enables a wide variety of reporting and analysis formats, including what-if scenarios with real-time modelling, by leveraging Excel to dynamically read data and write back to the database. Users can easily develop both ad-hoc and production reports including financial statements in their required format. BPC includes a book publishing wizard within the Excel interface that dynamically generates any combination of cost centres, profit centres, product lines, etc. and product books in a deliverable PDF document. An alternative disclosure management solution is available from SAP to help automate filings with various regulatory agencies, including the SEC.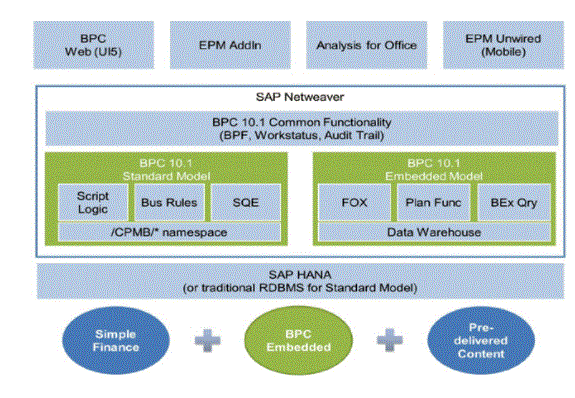 SAP BPC Sample Resumes! Download & Edit, Get Noticed by Top Employers!
Download
Conclusion:

BPC Definition or SAP BPC stands for: A SAP module that provides planning, budgeting, forecasting and financial consolidation capabilities.

BPC stands for Business Planning and Consolidation.
SAP BPC gives you a single view of financial and operational data.
SAP provides built-in functionality for BPC
Strategic plan
Budget
Reporting
Forecast
SAP BPC Administration is a tool that allows administrators to perform setup and maintenance tasks for BPC client applications.
SAP BPC supports Microsoft Excel, Word and Powerpoint. SAP Business Planning Consolidation for Office allows to collect data, generate reports, perform real-time analysis and publish reports in a variety of formats.