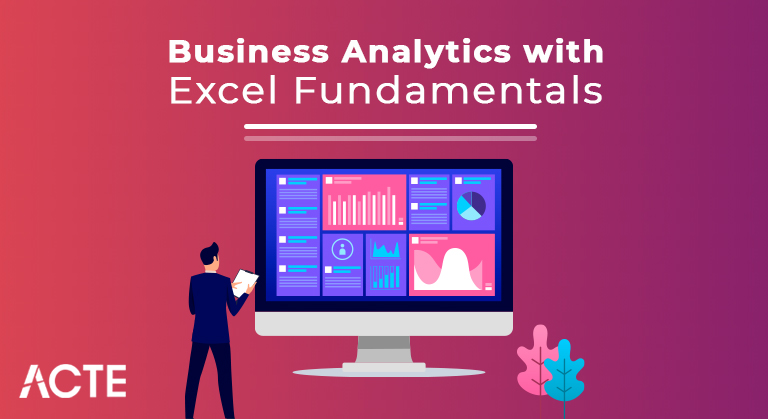 Business Analytics with Excel Fundamentals | A Complete Guide For Beginners
Last updated on 27th Dec 2021, Blog, General
If you are a manager or aspiring manager and you want to differentiate yourself or create a competitive advantage for you, Business Analytics with Excel is right course for you. You will learn some important tools and techniques to proceed with Business Analytics of your own.
Can Excel Be used For Business analytics
Key Skills Every Business Analyst Needs In Order to Excel
Features of Business analytics
What are the goals of a business analyst?
What are the roles or responsibilities of a Business Analyst?
What's So Great About Analysing Data in Microsoft Excel?
How do you get data into Excel?
The Right Way to Use Excel
Excel For Business analytics
Conclusion
Can Excel Be used For Business analytics:

If you are a manager or aspiring manager and you want to differentiate yourself or create a competitive advantage for yourself, then Business Analytics with Excel is the right course for you.

You'll learn some important tools and techniques for moving forward with your own business analytics. This is an accelerated course. The techniques are presented from a practical point of view. You do not need to get into complex mathematical and statistical modelling. Instead the focus is on understanding the implications of various tools, learning to interpret and formulate a problem and finally solve them using Excel.

In the book "Analytics on Competition: The New Science of Winning," Thomas Davenport claims that a significant proportion of high-performing companies have high analytical skills among their personnel. A research by the MIT Sloan Management Institute found that 51 percent of companies use analytics to gain a competitive advantage while others are struggling.

Key Skills Every Business Analyst Needs In Order to Excel:

Top 7 Business Analyst Skills That Are Highly In Demand!. Let's get to the point and take a look at the top 7 business analyst skills that are in demand.

1. Competent Verbal Communication

Any high-end job profile requires communication as a skill. However, since the job of an analyst is to analyse the data, the results have to be conveyed to the people of higher authorities. Of all the skills required of business analysts, communication is the biggest foundation.

2. Good Listening Skills

Listening skills are one of the key cornerstones of becoming a good business analyst. A good business analyst listens to and absorbs the information. It helps the analyst to analyse the information thoroughly so that they can specify the requirements.

3. Ability to understand delegated objectives

Interpretation is an extension of the above skill. The requirements stated by the management or technical staff should be understood as a whole and individually. Sometimes, there are too many gaps in the information communicated, which the analyst has to understand and fill. If there is any problem in understanding the objectives, don't hesitate and ask again. Overall, the ability to understand quickly is one of the top business analyst skills.

4. To be able to conduct meetings with stakeholders

Using email has been a standard protocol until now to communicate effectively and professionally with clients. However, sometimes this is not the most effective method. Hence, having a face-to-face discussion with the client can work wonders and even help in resolving the issues very quickly. Organising and running meetings is one of the important skills business analysts need.

5. Knowing the objectives well

Understanding your objectives is one of the most important business analyst skills. Sometimes, the upper and middle management can clearly communicate what is to be done. However, most of the time, they will only outline the requirements they need. This will give you only a faint idea of ​​the requirements. It is up to the analyst to turn this silhouette of ideas into a concrete understanding of what is really needed.

6. Being diligent with time management

This is one of the most important of all the skills required of business analysts. Time management is important because a business analyst's agenda is full of tasks and they have to ensure that their commitment towards each of them is met. Understanding priorities and then scheduling day-to-day tasks as needed is the most fundamental step in time management for business analysts.

7. Documentation and Report Writing

This is a good example of the technical skills required of business analysts. This includes writing reports, plans, documentation and various types of analysis statements. The responsibility of a business analyst would require one to write on a wide range of topics.

Features of Business analytics:

Intuitive Interface: It should allow the user to perform analytical operations through an intuitive interface without the use of coding or programming.

Data Blending Capabilities: As business users obtain data from a variety of sources, the tool must have advanced data blending and enrichment capabilities.

Ready to consume insights: In today's fast-paced business environment when a delay of a few seconds can turn your customers away, the tool needs to be capable of producing business intelligence ready to be consumed.

Easy to share: It should have easy and controllable sharing capabilities to provide insights across the network in a multi-user environment.

Scalable Analytics: It should be scalable to enable customised analysis and new module development for changing business needs.

Integration Support: It should support integration of other major BI, analytics or data visualisation tools to enable seamless transportability and compatibility of data.

What are the goals of a business analyst?

Business analysis as a field is closely linked to IT. In addition to non-IT areas such as process improvement, strategy planning and policy formulation, business analysis goals often include a systems development component.
IT business analyst, technology business analyst, and systems analyst are examples of business analysts who specialise in building and upgrading software systems. Most analysts, on the other hand, are accountable for a wide range of deliverables and view IT as only part of their overall business analysis objectives.

What are the roles or responsibilities of a Business Analyst?

The functions and responsibilities of a business analyst are as follows:

Collaborates with the BA business to identify possibilities for improving business operations and processes.
The business analyst is also engaged in the design and modification of trading systems.
Their main responsibility is to collect, document and analyse different types of business requirements.
They assist in the development of technical solutions along with resolving business issues as needed.
They assist in testing the system as well as in the creation of system documentation including user manuals.

What's So Great About Analysing Data in Microsoft Excel?

Therefore, it is no surprise that most people prefer to receive and analyse their data in Microsoft Excel. Why here?

1. Trust

People rely on Excel.
It is familiar. It is already on your computer. And it's easy to figure out, even if you've never used it before.
Given the option of learning a new data analysis program or getting that data into Excel, which one would you choose?

2. Teamwork

The data does not exist in a vacuum. Chances are, there is some teamwork involved when it comes to analysing and sharing data in your organisation.
You are not just doing it for your own benefit. You are doing this because your organisation requires it. Perhaps you are analysing data to identify new business opportunities. Or maybe you're just analysing the data to understand how successful a recent effort was. You can even collaborate with a team to pull the data together.

Excel makes it easy to collaborate and work on spreadsheets together. And if your teammate doesn't know what to do, you can very quickly adopt a few tricks.

3. Times

You don't have time to learn a new program just to analyse your data.
Excel does not have a steep learning curve, so the time to insight is usually fast. You can choose your own path for data analysis. You can work through rows and columns. Or you can click to display the data in a pivot table for a deeper analysis. You can also create visualisations in charts or graphs with just a few clicks.
But Excel True Business Intelligence.
Excel is a great tool for analysing data. This is especially handy for making data analysis available to the average person in your organization.
But one step is missing. Excel is not a single source of truth.

How do you get data into Excel?

The best way to get data into Excel is to export it with a trusted tool. The worst way is to copy and paste it yourself. Why here? Copying and pasting the data leaves it open to errors. You can accidentally change the data without knowing it, and then your analysis is useless.

Where are you pulling it from?

Data can come from many places. You can get this from a database like Db2, Oracle, or Microsoft SQL Server. Or maybe you're getting it from an application like Enterprise Resource Planning (ERP) or Customer Relationship Management (CRM).
Where the data comes from matters. If you have data across multiple systems, you should be able to consolidate it to get a single version of the truth. You can't just take some data from Oracle one day and ERP the next – and expect the results to be in sync.

Develop Your Skills with Business Analyst Certification Training

Weekday / Weekend Batches

See Batch Details

Are you sure it's valid?

You can't analyse data just to analyse the data. Before you go too far down the road of analysing it, you should be certain that it is valid. Here are some questions to ask to make sure your data is accurate before moving to Excel:

Is any data missing?
Is the data out of date?
Can you get all the data you need?
Do you have a reference for the data?
Is the data live?
Data is often only a snapshot in time. It can be helpful—but only if you take advantage of it before it gets old.
In many cases, once the data is in Excel, it is dead. It is not up to date. And if your data changes then excel doesn't update.

The Right Way to Use Excel:

Excel can be really useful to your organisation, especially when more employees are called in to analyse the data. But you shouldn't put all your hopes on Excel alone. The Right Way to Use Excel is one of the many tools in your Business Intelligence Toolkit. This is especially important if you're storing data on the IBM i. Using Business Intelligence tools can help you get data into Excel from the green screen.

Plus, business intelligence tools can help you ensure that your data is accurate before inserting it into Excel. Then you can analyse it with peace of mind. We have used Excel to perform some basic data analysis tasks to see if it is a reasonable alternative to using statistical packages for similar tasks. We concluded that Excel is a poor choice for statistical analysis beyond textbook examples, for the simplest descriptive statistics, or for too few columns. The problems we encountered are in four general areas:

Missing values ​​are handled inconsistently and sometimes incorrectly.
Data organisation varies by analysis, forcing you to reorganise your data in multiple ways if you want to do many different analyses.
Multiple analyses can only be performed on one column at a time, making it inconvenient to perform the same analysis on multiple columns.
The output is poorly organised, sometimes inadequately labelled, and there is no record of how the analysis was accomplished.
Excel is convenient for data entry, and for quickly manipulating rows and columns prior to statistical analysis. However when you are ready to perform statistical analysis, we recommend the use of statistical packages such as SAS, SPSS, Stata, Systat or Minitab.

Excel For Business analytics:

Excel is probably the most commonly used spreadsheet for PC. Newly purchased computers often come with Excel preloaded. It is easily used to perform a variety of calculations, including a collection of statistical functions and a data analysis toolpak. As a result, if you suddenly find that you need to do some statistical analysis, you can turn to this as the obvious choice. We decided to do some testing to see how well Excel would work as a data analysis application.

To present the result, we will use a small example. The data for this example is imaginary. It was chosen to contain two categorical and two continuous variables, so that we could test a variety of basic statistical techniques. Since almost all real data sets contain at least some missing data points, and since the ability to correctly deal with missing data is one of the features we provide in statistical analysis packages, we have found two empty cells in the data. presented.

Business Analytics with R Sample Resumes! Download & Edit, Get Noticed by Top Employers! Download

Conclusion:

Business analyst skills are a combination of hard skills and soft skills. If you want to become a successful business analyst, it will always help you to improve your technical abilities along with working on your people skills.
Companies in both the IT and e-commerce sectors offer excellent compensation to deserving candidates who can add value to their organisation. We hope you liked the article about Skills Required for Business Analysts. In addition to the regular educational qualifications and work experience, having an advanced business analysis certificate also helps in securing jobs that offer high-level salaries.