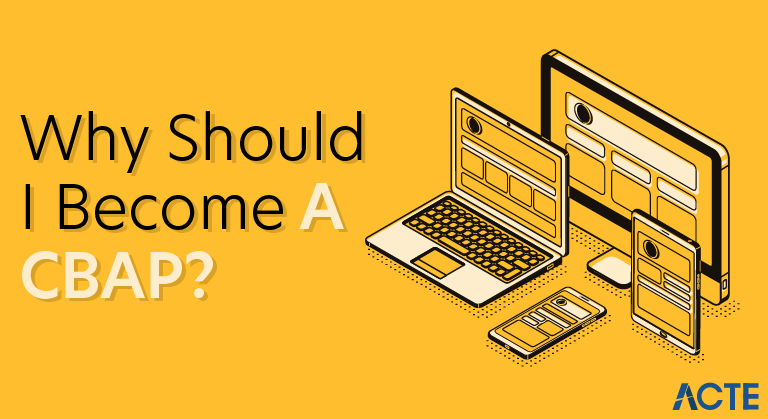 KNOW Why Should I Become a CBAP?
Last updated on 12th Jul 2020, Blog, General
The business analyst (BA) role has become essential in today's workplace as a vital component of a successful project. The business analysis field has been accelerating at a rapid pace, and this acceleration has caused some understandable growing pains. Among the challenges are a lack of standardization, inconsistent terminology across organizations, and difficulty in assessing knowledge and skills of BAs.
The International Institute of Business Analysis (IIBA) was founded as a non-profit organization to promote the growth and professionalism of business analysis. Part of IIBA's mission is to document and maintain standards for business analysis and to recognize and certify practitioners. The CBAP (Certified Business Analysis Professional) certification program was put in place in 2006 to screen, test, and certify qualified and knowledgeable BAs.
This article briefly summarizes the CBAP program, and why business analysts should become certified. The majority of the article covers the steps and several tips to help you become certified.
IIBA and Certification
The IIBA was formed in 2003 as a non-profit organization devoted to creating awareness and recognition of the importance of business analysis. Part of IIBA's vision is to build its image and become identified as the professional organization for BA professionals. It is also focused on identifying BA skills and competencies, and certifying practitioners based on them.
In fact, the IIBA's mission is to "Develop and maintain standards for the practice of business analysis and for the certification of its practitioners." One of the main creations of the IIBA has been its Business Analysis Body of Knowledge (called the BABOK for short or sometimes just the BOK). The BABOK is a guide to the generally accepted knowledge and practices in the BA profession. The other significant creation has been the CBAP certification: Certified Business Analysis Professional. The authors are proud to be among the world's first CBAPs.
The CBAP certification process came from a BA task analysis study done back in 2006. From that, a committee of experts developed examination questions to test the business analysis knowledge and its application by BAs. Along with a rigorous application process, the examination is used for assessing and certifying experienced and knowledgeable BA practitioners.
In the spirit of the CBAP exam, and to start preparing to pass it, we've assembled a few basic multiple-choice questions. These questions are typical of those on the exam—they are not from the exam. The answers are revealed at the end of the article.
Here's the first of the questions; go ahead and see how you do!
1) The BABOK defines Business Analysis as:
A) Analyzing business problems and determining which projects will best solve those problems.
B) Identifying business needs and determining solutions to business problems.
C) Verifying business requirements by ensuring the solution meets business needs.
Application Process
The IIBA made the CBAP application process a rigorous one, to screen out under-qualified and less-experienced BAs. Check out the basic qualifications in the sidebar to the right. IIBA's website has a comprehensive Frequently Asked Questions document about the CBAP process. Visit www.TheIIBA.org for more information.
Tip: The CBAP application can be tedious to complete. Use the template that IIBA provides to document your work experience and project hours.
To take the CBAP exam, your application must be pre-approved. The professional development hours must also be complete before applying. This requirement has prevented more than a few otherwise-qualified applicants from being allowed to sit for the exam. Make sure you can document your education hours with a certificate or other written proof.
Benefits of CBAP Certification
Given the strict requirements and rigorous application process, one would assume the certification is worthwhile, right? Well, as a matter of fact, it is. There are a number of benefits that IIBA has identified to organizations to certify their BAs through the CBAP designation:
Employee development and recognition is enhanced.
CBAPs have signed a Code of Conduct, which increases the professionalism of its adherents.
CBAPs are identified as individuals with an advanced level of knowledge and qualifications and follow established standards, making them a good choice for critical projects
CBAPs produce reliable, quality results with increased efficiency and consistency
Employers have a reduced risk of hiring and promoting people with the CBAP credential.
IIBA has also identified several benefits for you to become CBAP certified:
Demonstrates dedication and commitment to the business analysis profession
Ability to enhance the profession and have a voice among other professionals
Expedited professional advancement because the CBAP sets individuals apart
Demonstrates knowledge and skills necessary to be an effective business analyst
Advanced career potential – without having to become a Project Manager!
Opportunity to earn more income
Be recognized by the organization and peers as experts in their field.
Business Analyst Sample Resumes! Download & Edit, Get Noticed by Top Employers!
Download
The CBAP Exam
Hopefully, you can see there are many benefits for you or others at your organization from BA certification. To help you get started, here is some valuable information about the exam and tips for passing it.
As of the date of this article, the CBAP exam is a collection of 150 multiple-choice questions. Some are simple and straightforward, some are downright difficult, and most are challenging. The exam will be"going electronic in mid-2008, but for now, it is paper-and-pencil based. It is also held in a few select cities. The IIBA web site contains current and future exam dates.
The exam duration is three hours, and you may find that you need most or all of that time. Because of the length, some people find it useful to start the exam by noting a few key mnemonics and definitions. If nothing else, this "brain dump" helps alleviate a little test anxiety that many people feel in a high-stakes exam like the CBAP. We've recommended this same technique for years to people preparing for the PMP exam.