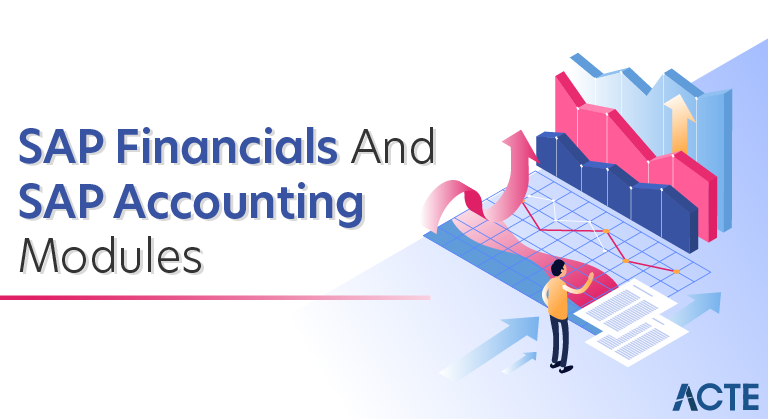 SAP Financials & SAP Accounting Modules – Learning Guide
Last updated on 13th Jul 2020, Blog, General
What is SAP Financial Accounting (SAP FI)?
SAP Financial Accounting (SAP FI) module is the backbone of SAP accounting as it records financial transactions of all movements of goods, services and all other business transactions between the company and its customers and vendors. SAP FI application represents from an accounting perspective a company general ledger (G/L). SAP FICO (FI & CO) are two separate books of accounting, where the SAP FI is used for external reporting with Balance sheets and Profit & Loss statements and SAP CO (Controlling) for internal reporting purposes.
SAP Financial accounting module components enable us to meet all the requirements of the financial accounting department of an organization. The important features of FI are
SAP FI records all the business transactions with an unbroken audit trail from financial statements to the individual documents.
The postings made in sub ledger accounts always generate postings in a corresponding G/L account.
The data is available in real time, so the financial accounting data can be accessed throughout the organization.
All the transactions processed in logistics are posted to the financial accounting module through automatic account determination. So ensuring that the value of goods and services are exactly reflected in accounting.
Prepares operational information and provides effective decision making within the organization.
SAP FI module can be integrated with other SAP modules of material management, sales and distribution, project systems, controlling, production planning, Human capital management, payroll, etc.
SAP Financial Accounting Organizational Structure
The important organizational elements of SAP FI are
Company
Company Code
Business Area
Functional area
The important sub-modules of SAP financial accounting are
General Ledger (FI-GL)
Accounts Receivable (FI-AR)
Accounts Payable (FI-AP)
Asset Accounting (FI-AA)
Important Concepts of SAP FI
Chart of Accounts: –
Minimum one chart of accounts to be defined in the SAP system. Each G/L is configured according to the chart of accounts. The chart of accounts consists of a list of general ledger accounts that contains account number, account name and type of G/L account.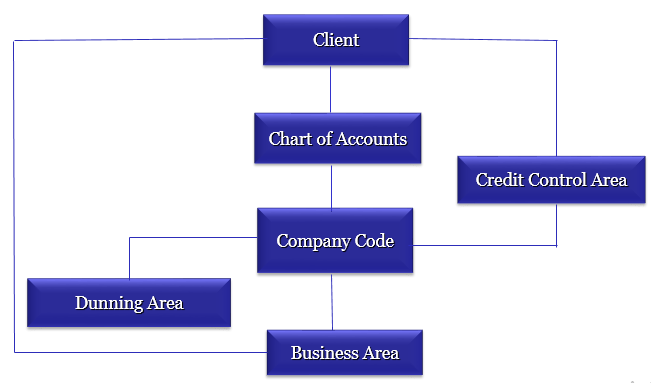 Currencies: –
In Financial Accounting, the currencies need to be specified for each company code in which currencies ledgers to be maintained. Different types of currencies in SAP are company code currency, document currency and group currency.
Fiscal Year: –
A fiscal year is also known as financial year. Fiscal year can be defined as year independent or year dependent. To separate business transactions into different periods, a fiscal year with posting periods has to be defined in SAP.
Components of SAP Financials and Accounting Module
SAP General Ledger
SAP Accounts Payable
SAP Accounts Receivable
SAP Bank Accounting
SAP Asset Accounting
SAP Funds Management
SAP Travel Management
SAP General Ledger: The major aim of SAP general ledger accounting is to provide a system for managing all external accounts of an organization. Recording all the business transactions of an enterprise along with various other operation areas are managed by this SAP accounting module. It provides real-time assessment of cost accounting areas.
SAP Accounts Payable and Receivable: While SAP accounts payable records all the components and data for vendors, SAP account receivable records all the components and data for customers. Balance sheets and account statements can be created using these modules.
SAP Bank Accounting: This module is used to handle all bank accounting transactions. From managing bank master data, cash balance management to processing incoming and outgoing payments; everything can be managed using this module.
SAP Asset Accounting: This module is designed to manage fixed assets of organizations. The SAP financial system enables to manage and supervise fixed assets along with providing detailed information and reporting data.
SAP Sample Resumes! Download & Edit, Get Noticed by Top Employers!
Download
SAP Funds Management: This SAP accounting module supports all the related tasks in creating and managing budgets. Calculating revenues, expenditures and funds are included in the task lists of SAP funds management.
SAP Travel Management: This SAP module accounts all the transactions related to corporate trips organized within and by the organization. Approvals, bookings, settlement and diverse travel expenditures are recorded and managed using the SAP travel management module.