Which Certification is Right for You: Six Sigma or Lean Six Sigma?
Last updated on 11th Jul 2020, Blog, General
There is an ongoing debate in the business world about whether Lean or Six Sigma is the better system to implement when it comes to streamlining business processes and eliminating waste. Both sides have proponents and detractors who can cite various situations in which one system may produce better results than the other.
Others argue that the best approach to creating the most efficient and effective business structure requires incorporating both Six Sigma and Lean principles. In order to view the debate in the proper context, however, you need to understand the differences and similarities between the two systems.
Though there are not many differences between the approaches in Six Sigma and Lean Six Sigma, let us look at the main areas where they both stand out to be distinct:
The main difference is that Lean is a philosophy and Six Sigma is a program. Six Sigma does not attempt at organisational culture change while Lean attempts at reorganising the culture and behaviour among the employees. Thus, Lean Six Sigma is both a program and a philosophy that attempts both.
The focus in Six Sigma is the elimination of errors or defects, which can hinder the ability to deliver high-quality services. The idea of Six Sigma is to reinvent the process so as to limit the process variations to 3.4 defects per million
Lean Six Sigma focuses both on the elimination of waste and speeding up of the process. There are 8 type of wastes according to the lean system: Waiting, Overproduction, Rework, Motion, Over Processing, inventory, Intellect and Unnecessary. It works to reduce the process variation, resulting in a quicker cycle of iterative improvements.
In simple, the focus of Six Sigma is on the customer and the end product, while Lean Six Sigma focuses on waste and production methods.
If you are an experienced professional and have supported quality improvement projects, Six Sigma Green Belt is good for you. However, if you do not have any experience, you can go for Lean Six Sigma Green Belt as it has no prerequisites. You can learn the Six Sigma DMAIC process and other areas in Lean Six Sigma.
When it comes to ownership, there's a marked difference in Six Sigma and Lean Six Sigma. In Six Sigma, the onus of implementation falls on special-purpose teams formed specifically for the purpose. On the other hand, Lean Six Sigma requires adoption by the entire process members as it aims at the continuous improvement across the entire value-stream of operations.
Six Sigma
Six Sigma (6σ) is a disciplined, data-approach methodology to eliminate defects in any process — manufacturing to transactional and product to service. This approach was first developed by two engineers, Bill Smith & Mikel J Harry, working at Motorola in 1986. The goal of Six Sigma is very specific, which is to reduce defect rates in any process, and uses one of the two approaches – DMAIC (Define, Measure, Analyse, Improve and Control) or DMADV (Define, Measure, Analyse, Design, and Verify).
The essential goal of Six Sigma is to eliminate defects and waste, thereby improving quality and efficiency, by streamlining and improving all business processes. While it was first designed for use in manufacturing, practitioners quickly discovered that Six Sigma could be useful and applicable throughout all aspects of a business – from customer support to management to service delivery.
Today, Six Sigma plays a key role in the leadership of an organization, and its wide-scale implementation can help a company to achieve real and measurable results.
Lean Six Sigma
Evolution of business processes is a common thing so as to adapt to modern technology and demands. Six Sigma is no different and with the combination of lean management methods, it was developed into an approach that focuses on both process speed and quality.
Lean Six Sigma also uses the DMAIC approach as Six Sigma and has the same organisational structure: Yellow Belt, Green Belt, Black Belt, and Master Black Belt.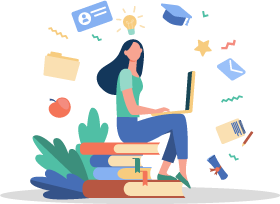 Get Practical Oriented Six Sigma Training to UPGRADE Your Skill Set
Instructor-led Sessions
Real-life Case Studies
Assignments
Explore Curriculum
Essentially, Six Sigma and Lean systems have the same goal. They both seek to eliminate waste and create the most efficient system possible, but they take different approaches toward how achieving this goal. In simplest terms, the main difference between Lean and Six Sigma is that they identify the root cause of waste differently.
Lean practitioners believe that waste comes from unnecessary steps in the production process that do not add value to the finished product, while Six Sigma proponents assert that waste results from variation within the process.
Of course, there is truth in both of these assessments, which is why both Lean and Six Sigma methodologies have been so successful in improving overall business performance in a variety of fields. In fact, these two disciplines have proven to be especially successful when working in tandem – hence the creation of Lean Six Sigma.
Like Six Sigma, Lean is used by businesses to streamline manufacturing and production processes. The main emphasis of Lean is on cutting out unnecessary and wasteful steps in the creation of a product so that only steps that directly add value to the product are taken.
As far as Lean methodology is concerned, the only way to determine if something has value or not is to consider whether a customer would be willing to pay for it. Any part of the production that does not add value is simply removed from the equation, leaving a highly streamlined and profitable process in place that will flow smoothly and efficiently.
Six-Sigma or Lean Six Sigma Green Belt Certification
If you intend to have a career in quality management in industries such as pharmaceutical, healthcare, manufacturing, technology or service industries, you ought to know that prospective employers will often be searching for Six Sigma or Lean Six Sigma qualifications. They are two separate certifications with three levels in each. They begin at the Green Belt level and progress to Black Belt and Master Black Belt levels. So which path is right for you?
Let's understand these terms first: Six Sigma and Lean Six Sigma. While the former is essentially a data-driven approach and an analysis based decision-making methodology, the latter is its complementary improvement. Six Sigma is employed in reducing process variations while Lean Six Sigma finds minimizes and eliminate activities that don't add value to the client or customer. In today's world, Green belt practitioners are usually expected or needed to be well-versed in both as process improvement activities in leading industries employ aspects of both. Together Lean Six Sigma and Six Sigma are an effective combination for improving process performance and also instilling progressive improvement throughout your organization.
Six Sigma employs statistical tools and concepts to measure, analyze and improve any business process and identify defects. The wide-scale implementation of Six Sigma Training Online affects the top leading heads of industry or organization while assisting a firm in achieving real and measurable results.
Lean Six Sigma Green Belt Training is usually part-time resources, dedicating a quarter to half of their day implementing the methodology. Additionally, the implantation of smaller-scale projects enhances the way employees approach their day-to-day work. With the appropriate training, individuals will be equipped with a logical and objective method to identify, measure, and eliminate issues with a process within a corporation.
Six Sigma Sample Resumes! Download & Edit, Get Noticed by Top Employers!
Download
If you're looking to train and certify your team or thinking of getting your green belt, Taskbay's lean six sigma green belt certification online offers an unparalleled experience. Tasksbay is a trusted partner to corporations and individuals. They offer an internationally-recognized six sigma green belt training and certification program. The green belt program may be taken alone or as the first step to earning your black belt. An added benefit of this program is that individuals from the same company can complete the training together even if they are working toward different belt levels. This format encourages groups to work together and promotes synergy while also providing the flexibility to mix and match locations. They also offer traditional classroom programs and onsite options including champion programs designed for executives beginning the six sigma implementation process.