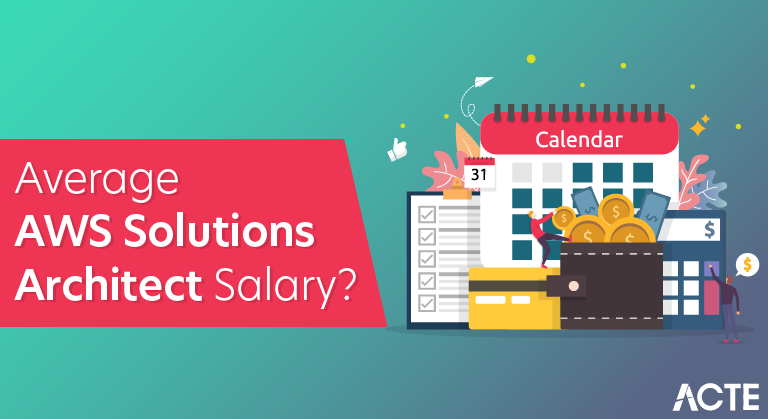 What is the Average AWS Architect Salary? – Learning Guide
Last updated on 16th Jul 2020, Blog, General
What is AWS?
Amazon web service is a cloud-based platform that provides scalable, cost-effective, reliable, and easy-to-use cloud computing solutions to businesses worldwide. The offerings of AWS are not limited to a particular country, continent, or time zone. It is for every business that is ready to pay to use AWS for making the most of what the cloud has to offer. Amazon is behind this project, which is developed by combining SaaS or software as a service, IaaS or infrastructure as a service, and PaaS or platform as a service.
AWS can be divided into three categories, namely Glacier, the cost-effective storage service, S3, the storage system of Amazon, and EC2, the virtual machine service offered by Amazon. The significance of all the services that AWS offer and the scale at which it offers them have taken it way past its competitors.
It is an amalgamation of several products and services that are associated with cloud computing on an individual level. This is one of the most profitable divisions of Amazon that lends a host of equipment, tools, technologies, and support required to provide the varied range of services that it offers. From remote computing, servers, security, and storage to mobile development, networking, and email, AWS offers you everything that you need to help your business benefit from different cloud computing services.
It is the leading name when it comes to cloud computing services. We have facts to support this statement. An independent analysis done in February 2020 reveals that AWS commands nearly one-third of the cloud computing market with 32.4% market share. The other two names in the list are Azure with 17.6% and Google Cloud with 6% market share.
AWS is located worldwide with its servers located in as many as 76 availability zones. If we talk about its availability in countries, we have to mention that it has its presence in 245 countries across the world. The availability regions mentioned above are separated to allow users to put their services under geographical restrictions if they want to. This diversification is also done keeping in mind the security of the stored data. As we mentioned earlier, AWS is a collective term that encompasses a host of cloud computing services. We have listed down a few of those
Compute
Migration
Data management
Governance
Security
Monitoring
Storage databases
Networking
Big data management
Artificial intelligence
Analytics
Mobile development
Hybrid cloud
Who is an AWS architect?
Simply put, an AWS architect is someone who has an AWS solutions architect certification. An AWS architect has a number of responsibilities in the solution development team, out of which the most important one is designing applications or services within an organisation. In addition to understanding how AWS works, the AWS architect also needs to know how it can work with businesses.
There is a balance between technical and business skills. The solution architect, as they are often called, work in collaboration with the enterprise architect of the organisation to seek strategic direction in building applications or services. The focus of this collaboration is primarily on the technical things related to the development of a solution as well as the impact those technical nuances may have on business outcomes. This information comes in very handy for the development team when it is in the stage of implementing a solution.
AWS architects need skills of working with and managing both people as well as processes. One of their responsibilities includes standing in front of the management of a company and explaining them the most complex problems in the simplest way possible. They may even be required to explain those same complex concepts in a different way to a completely different audience. So, not only are they required to have an expert understanding of technical concepts that are often complex but also the communication and people skills to ensure that they describe those in a way that is easy to understand for the audience sitting in front of them.
What Do Solutions Architects Do?
Solutions architects are in charge of creating, designing, and implementing arrangements within a business. They help to build new systems needed by the company and must be able to identify the business' current problems and future technological goals. They are also in charge of communicating with other departments to implement new plans and goals. Solutions architects can work in the fields of business development, business planning, mentoring, management, or quality assurance. In some cases, they are also recruited to teach and guide.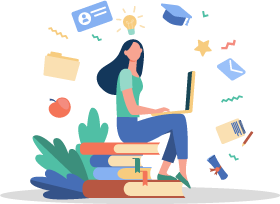 Learn AWS Training with Real-Time Experience to Build Your Skills
Instructor-led Sessions
Real-life Case Studies
Assignments
Explore Curriculum
This job requires a bachelor's degree in computer science, information technology, or software engineering. Although experience is not always required, several years of network administration experience is beneficial. Solutions architects need to have high levels of concentration, creativity, and leadership, as well as good problem solving skills. They also need to have extensive knowledge of computers and software.
Solutions Architect Tasks
Act as the lead for the translation of business objectives and requirements into functional solutions.
Prepare and document testing requirements as well as all test data.
Lead brainstorming sessions and identify areas for process improvements.
Prioritize goals and objectives, and monitor the work of others.
Design and develop technical solutions based on existing technologies.
Job Satisfaction for Solutions Architect
AWS Certified Solutions Architect
Amazon offers both associate and professional levels of its AWS Certified Solutions Architect certifications. You must earn your associate-level certification before advancing to the professional level.
Associate Level
Based on our 2019 IT Skills and Salary Survey, the average salary for those holding AWS Certified Solutions Architect – Associate Level in the United States and Canada is $130,883. A few concepts candidates should know prior to taking the exam include:
Designing and deploying scalable, highly available systems on AWS
Selecting the correct AWS service based on requirements
Deploying on-premises apps to AWS
Want to know all the details on how to prepare for your exam? Read our comprehensive AWS Solutions Architect Associate Certification Prep Guide which highlights all the important FAQs and even provides hints and tips from our experts.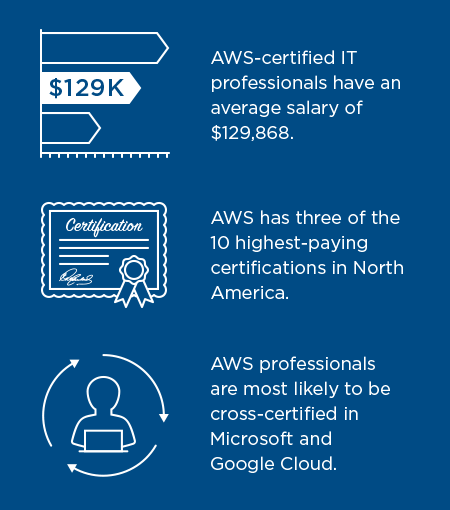 Professional Level
Once you have attained the Associate certificate, IT specialists should consider the Professional level as the next step. It has an average salary of $148,456 according to the 90 survey respondents who hold this certification. Candidates should have:
Experience designing and deploying dynamically scalable and reliable applications on AWS
An ability to migrate complex multi-tier applications on AWS
AWS Certified Developer
The average salary for those holding the AWS Certified Developer – Associate certificate is $130,272, which ranks sixth in North America. To achieve this increasingly popular certification, candidates should have:
A good grasp on choosing the right AWS services for the application
Leveraging software development kits (SDKs) to interact with services from your application
Writing code that optimizes performance
Code-level application security
AWS Certified SysOps Administrator
The average salary for those holding the AWS Certified SysOps Administrator – Associate certification is $130,610. This certification validates technical expertise in deployment, management, and operations on AWS. Candidates seeking this certification should understand concepts such as:
Implementing and controlling the flow of data to and from AWS
Migrating on-premises apps to AWS
Identifying operational cost control mechanisms
Want to know all the details on how to prepare for your exam? Read our comprehensive AWS SysOps Administrator Certification Prep Guide which highlights all the important FAQs and even provides hints and tips from our experts.
AWS Certified DevOps Engineer
The AWS Certified Devops Engineer is the professional-level certification for both the Developer and SysOps Administrator associate level – meaning you must hold one of those certifications prior to obtaining this one. In the IT Skills and Salary Report, a total of 52 respondents from the United States and Canada hold this certification. The small sample pool generated an average salary of $137,724. This certification validates technical expertise in provisioning, operating and managing distributed application systems on the AWS platform. Candidates should have a thorough understanding of concepts such as:
Implementing and managing continuous delivery systems and methodologies on AWS
Maintaining tools to automate operational processes
Security controls and governance processes
As interest in AWS continues to skyrocket, the need to validate AWS skills through certification will continue to grow and shine a light on the IT professionals who achieve these top-paying certifications. As with anything else in life, learning the skills and practicing helps pave the way to success. AWS offers resources such as hands-on practice labs and quests prior to sitting for the certification exam. Global Knowledge also authorized training courses focusing on learning skills and applying them to your job and exam readiness workshops focusing on the exam itself to get you ready for test day.
AWS Sample Resumes! Download & Edit, Get Noticed by Top Employers!
Download
AWS Certification Salaries
| Certification | 2019 Average Salary |
| --- | --- |
| AWS Certified Solutions Architect – Professional | $148,456 |
| AWS Certified DevOps Engineer | $137,724 |
| AWS Certified Solutions Architect – Associate | $130,883 |
| AWS Certified SysOps Administrator – Associate | $130,610 |
| AWS Certified Developer – Associate | $130,272 |