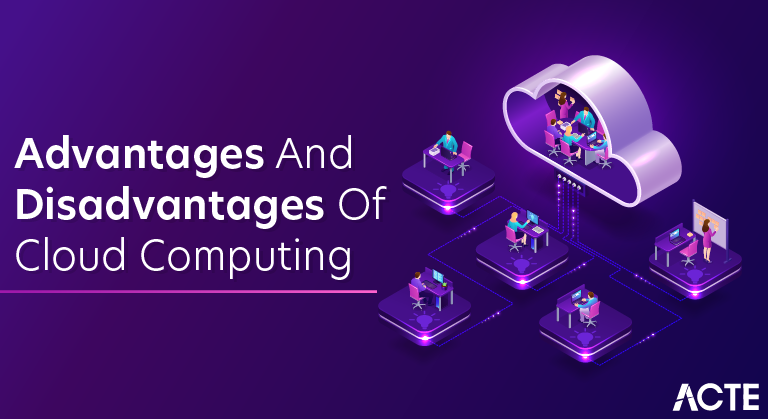 Advantages & Disadvantages of Cloud Computing – A Quick Guide
Last updated on 16th Jul 2020, Blog, General
According to IBM, cloud computing is the delivery of on-demand computing resources – everything from applications to data centers – over the internet on a pay-for-use basis. Amazon and Microsoft, leading cloud providers, offer a similar definition.
This means that cloud computing uses the internet instead of your computer's hard drive to access remote servers and processors that perform intensive compute and storage tasks over the internet.
Types of cloud computing
There are several types of cloud as outlined by Amazon:
Infrastructure as a Service:
Infrastructure as a Service contains the basic building blocks for cloud information technology and typically provides access to networking features, computers and data storage space. IaaS provides enterprises with a high level of flexibility and management control over IT resources and is most similar to existing IT resources that many departments and developers are familiar with today.
Platform as a Service:
Platform as a Service removes the need for organizations to manage the underlying infrastructure – usually hardware and operating systems – and allows companies to focus on the deployment and management of their applications. This helps them be more efficient as they don't need to worry about resource procurement, capacity planning, software maintenance, patching, or any of the other undifferentiated heavy lifting involved in running the application.
Software as a Service:
Software as a Service provides a completed product that is run and managed by the service provider. In most cases, people referring to Software as a Service are referring to end-user applications. With a SaaS offering there is no need to think about how the service is maintained or how the underlying infrastructure is managed; users only need to think about how they will use that particular piece software. A common example of a SaaS application is web-based email where email is received and sent without the user having to manage feature additions to the email product or maintain the servers and operating systems that the program is running on.
Advantages of Cloud Computing
As we all know that Cloud computing is trending technology. Almost every company switched their services on the cloud to rise the company growth.
Here, we are going to discuss some important advantages of Cloud Computing-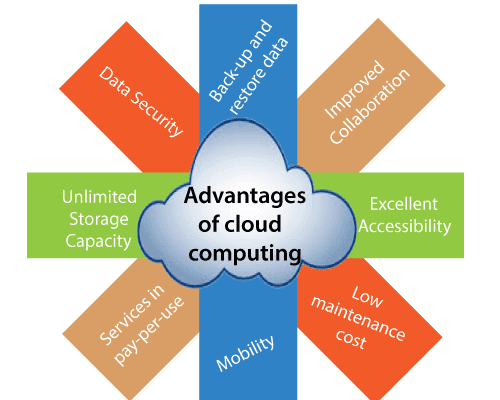 1) Back-up and restore data
Once the data is stored in the cloud, it is easier to get back-up and restore that data using the cloud.
2) Improved collaboration
Cloud applications improve collaboration by allowing groups of people to quickly and easily share information in the cloud via shared storage.
3) Excellent accessibility
Cloud allows us to quickly and easily access store information anywhere, anytime in the whole world, using an internet connection. An internet cloud infrastructure increases organization productivity and efficiency by ensuring that our data is always accessible.
4) Low maintenance cost
Cloud computing reduces both hardware and software maintenance costs for organizations.
5) Mobility
Cloud computing allows us to easily access all cloud data via mobile.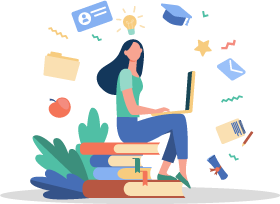 Enroll in Cloud Computing Training with In-Depth Concepts
Instructor-led Sessions
Real-life Case Studies
Assignments
Explore Curriculum
6) IServices in the pay-per-use model
Cloud computing offers Application Programming Interfaces (APIs) to the users for access services on the cloud and pays the charges as per the usage of service.
7) Unlimited storage capacity
Cloud offers us a huge amount of storing capacity for storing our important data such as documents, images, audio, video, etc. in one place.
8) Data security
Data security is one of the biggest advantages of cloud computing. Cloud offers many advanced features related to security and ensures that data is securely stored and handled.
Disadvantages of Cloud Computing
1. Downtime
With massive overload on the servers from various clients, the service provider might come up against technical outages. Due to this unavoidable situation, your business could be temporarily sabotaged.
And in case your internet connection is down, you will not be able to access the data, software or applications on the cloud. So basically you are depending on the quality of the internet to access the tools and software, as it is not installed in-house.
2. Security
There is room for imminent risk for your data even though cloud service providers abide by strict confidentiality terms, are industry certified and implement the best security standards. When you seek to use cloud-based technology you are extending your access controls to a third party agent to import critical confidential data from your company onto the cloud. With high levels of security and confidentiality involved, cloud service providers are often faced with security challenges.
The presence of data on the cloud opens up greater risk of data theft as hackers could find loopholes in the framework. Basically your data on the cloud is at a higher risk, than if it was managed in-house.
Hackers could find ways to gain access to data, scan, exploit a loophole and look for vulnerabilities on the cloud server to gain access to the data.
For instance, when you are dealing with a multi-tenant cloud server, the chances of a hacker breaking into your data is quite high, as the server has data stored by multiple users. But the cloud-based servers take enough precautions to prevent data thefts and the likelihood of being hacked is quite less.
3. Vendor Lock-In
Companies might find it a bit of a hassle to change the vendors. Although the cloud service providers assure that it is a breeze to use the cloud and integrate your business needs with them, disengaging and moving to the next vendor is not a forte that's completely evolved. As the applications that work fine with one platform may not be compatible with another. The transition might pose a risk and the change could be inflexible due to synchronization and support issues.
4. Limited Control
Organizations could have limited access control on the data, tools, and apps as the cloud are controlled by the service provider. It hands over minimal control to the customer, as the access is only limited to the applications, tools, and data that is loaded on the server and no access to the infrastructure itself. The customer may not have access to the key administrative services.
CLOUD SECURITY
Any discussion involving sensitive data must address security and privacy concerns. Fortunately, cloud service providers know that, too. That's why cloud security has drastically improved over the past several years.
Cloud companies are investing in the foremost security tools and they are performing more routine security audits. Cloud services operate by the strictest standards in data protection, standards that very few on-premises companies can compete with.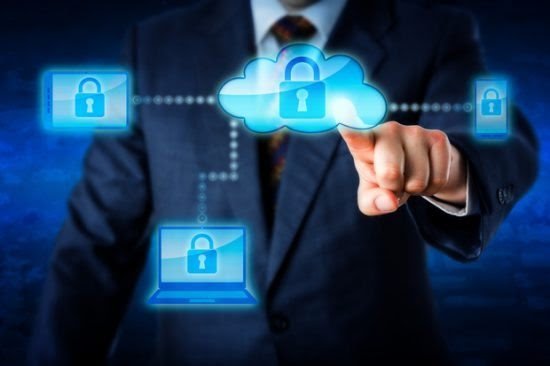 When signing up for any cloud service, whether an Infrastructure, Platform, or Software as a Service (IaaS, PaaS, SaaS), do some research to make sure that the cloud business you're entrusting uses the highest security standards.
AWS Sample Resumes! Download & Edit, Get Noticed by Top Employers!
Download
CLOUD COMPUTING TRENDS IN 2020
Based on its growth rate, it's apparent that the benefits of cloud computing outweigh the disadvantages. The cloud application market will grow rapidly to $236 billion in 2020, the total being 17% higher than the 2014 projection. — Forrester
This growth will be driven by a stronger market for cloud applications like software-as-a-service (SaaS) and an increased demand for cloud platforms like infrastructure-as-a-service (IaaS) and platform-as-a-service (PaaS).