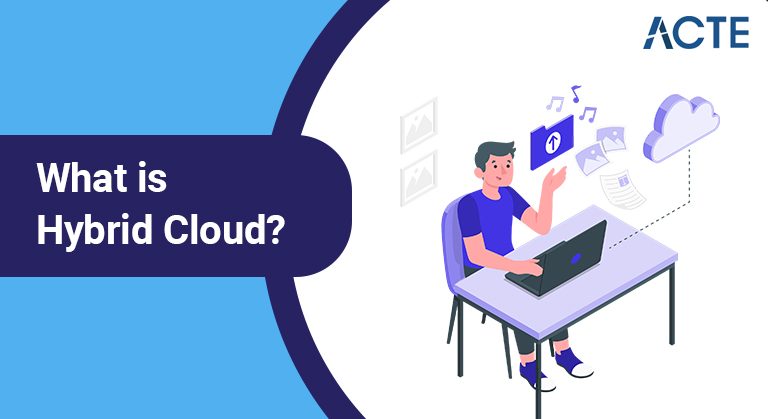 What is Hybrid Cloud? | Everything You Need to Know | Expert's Top Picks
Last updated on 23rd Dec 2021, Blog, General
Hybrid cloud refers to a mixed computing, storage, and services environment made up of on-premises infrastructure, private cloud services, and a public cloud—such as Amazon Web Services (AWS) or Microsoft Azure—with orchestration among the various platforms.
Introduction to Hybrid Cloud
Hybrid cloud architecture
Who uses hybrid cloud?
Hybrid cloud use cases
How is hybrid cloud managed?
Infrastructure as a service providers
Is hybrid cloud right for your organization?
Hybrid cloud scenarios
Advantages of Hybrid cloud
Conclusion
Introduction to Hybrid Cloud:

A hybrid cloud – sometimes called a cloud hybrid – is a computing environment that combines an on-premises datacenter (also called a private cloud) with a public cloud, allowing data and applications to be shared between them. can go. Some define a hybrid cloud to include a "multi-cloud" configuration where an organization uses more than one public cloud in addition to its on-premises datacenter.

A hybrid cloud is a solution that combines a private cloud with one or more public cloud services, with proprietary software enabling communication between each specific service. A hybrid cloud strategy gives businesses more flexibility by moving workloads between cloud solutions as need and cost fluctuate.

Hybrid cloud services are powerful because they give businesses more control over their personal data. An organization can store sensitive data on a private cloud or local data center as well as take advantage of the robust computational resources of a managed public cloud. A hybrid cloud relies on a single plane of management, in contrast to a multi-cloud strategy, in which administrators must manage each cloud environment separately.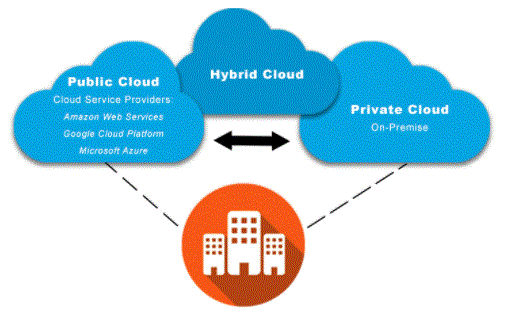 Hybrid cloud architecture:

Equal management of public and private cloud resources is preferable to managing cloud environments individually because doing so reduces the potential for process redundancy. Separate managed environments increase the risk of security flaws if each solution is not fully optimized to work with the others.

Hybrid architecture best practices eliminate many security risks by limiting the exposure of private data to the public cloud. Hybrid cloud infrastructure typically includes a public infrastructure as a service (IaaS) platform, a private cloud or data center, and access to a secure network. Many hybrid models take advantage of the local area network (LAN) as well as the wide area network (WAN).

Businesses adopting a hybrid strategy typically start with an IaaS solution and expand functionality to the private cloud. In order to effectively implement a hybrid strategy, public and private clouds must be compatible with each other so that they can communicate. In many cases, private clouds are built to be compatible with public solutions.

In recent years, IaaS providers such as Amazon, Google, and Microsoft have made it easier for businesses to connect their local resources to public cloud solutions. Application Programming Interface (API) improves native interoperability between services. Additionally, hybrid architects can deploy a hypervisor layer to generate virtual machines that connect to the public cloud through another software layer responsible for orchestration between cloud environments.
Who uses hybrid cloud?

Businesses across a spectrum of industries have moved to hybrid solutions to reduce costs and pressure on local resources. From the financial sector to the healthcare industry, hybrid cloud environments have proven effective not only in improving computing and storage power, but also in optimizing the scarce resource of physical space. Many organizations do not have the space available to deploy servers on site.

In the healthcare sector, data privacy is paramount, and privately held computation resources are scarce. A hybrid cloud model is an ideal solution because it allows medical groups to maintain patient data in a secure, private server while simultaneously taking advantage of the advanced computational power of a public IaaS model. Simply put, any industry that benefits from public cloud applications can also benefit from a hybrid model.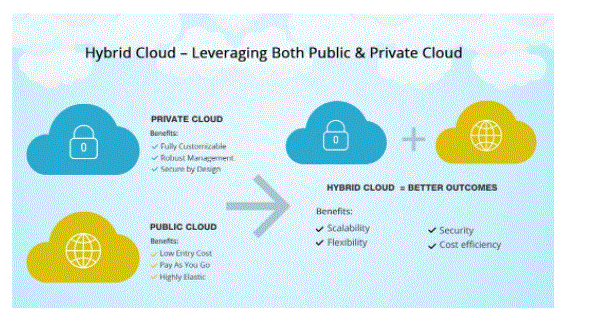 Hybrid cloud use cases:

The ability to scale on demand means that the hybrid cloud model has many business uses.

New applications

Launching a new application with an untested workload carries with it a level of mystery. Cloud-powered businesses have to take a certain amount of risk each time they try something new. Hybrid cloud mitigates that risk by reducing the need for a substantial initial investment. The business can deploy new apps and pay only for the resources they use, rather than paying for them upfront. If the app fails or shuts down for any reason, the business won't make much money.

Regulatory compliance

Certain industries are regulated to protect personal data. However, not every piece of data may need to reside in a private environment. Hybrid cloud allows businesses to comply with regulations while still benefiting from expanded computing power.

Since the introduction of the General Data Protection Regulation (GDPR) in the European Union, many organizations and other countries have split their data into multiple solutions to comply with EU rules, operating under a different set of rules. Any business handling user data globally must comply with these regulations or risk severe financial penalties

Learn Advanced Cloud Computing Certification Training Course to Build Your Skills

Weekday / Weekend Batches

See Batch Details

Workload discrepancies

The future is unpredictable. An application today may run efficiently in its current environment but may require additional computational power tomorrow. A hybrid cloud adapts to the needs of the workload, allowing the service to continue running smoothly even when the need for the workload increases. This is often referred to as "cloudbusting", as workloads are swept from one environment to another. It's like overdraft protection on your checking account. You want to have a fail safe in case the unexpected happens.
How is hybrid cloud managed?

Managing a hybrid cloud is a complex task as each cloud solution has its own API, storage management protocol, networking capability, etc. Mastering the complexities of each solution is possible, but probably not sustainable. For this reason, professionals responsible for hybrid cloud management often build a single interface to seamlessly manage all cloud services.

Building such an interface requires a team that is familiar with handling cloud solutions and getting disparate networks to communicate effectively. Fortunately, there are enterprise-grade management tools available to help IT managers get their systems up and running.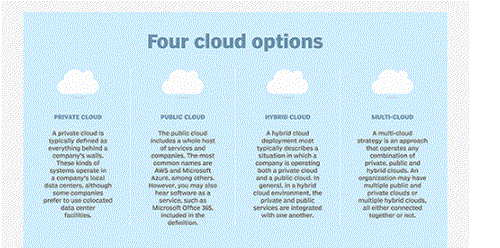 Infrastructure as a service providers:

With over 40 major IaaS providers on the market, IT leaders have never had more options when it comes to choosing a public cloud service. Here are three providers with broad capabilities:

Amazon Web Services

AWS is the largest public cloud in the world. Controlling more than 40 percent of the cloud market, Amazon's services are popular for a reason. AWS offers robust features including content delivery, computational power, networking features, and database management. Read more about how Citrix partners with Amazon Web Services.

Google Cloud Platform

Although relatively new compared to AWS, GCP has gained notably rapid growth thanks to Google's expertise in the space. Google's access to state-of-the-art machine learning and big data technologies also means that GCP is ideal for highly complex computational needs. Read more about how Citrix and Google Cloud work together to better work with innovative solutions in the hybrid cloud world.

Microsoft Azure

Azure, the second most popular public cloud, was an early proponent of the hybrid model from Microsoft. The service provides excellent support for hybrid cloud architects, which means new projects can get off the ground faster. Microsoft's new investment in open source frameworks has also made it easier to adopt Azure. Learn how Citrix and Microsoft are collaborating in the cloud so you can grow at the pace of business.
Is hybrid cloud right for your organization?

The hybrid cloud model is an effective way to align IT priorities with business needs. Many businesses can benefit from using a hybrid cloud over other options. Hybrids clearly offer the most flexibility if deciding between the public and private options. Whether or not an organization needs that level of flexibility depends on the goals of the business, the regulatory environment in which it lives and how those needs may change in the near future.

Hybrid cloud can be a great option for businesses with an already existing private cloud infrastructure. It makes it so easy to leverage Platform as a Service (PaaS) to interface with the public cloud. Organizations that want to better protect their data without losing the power of the public cloud can benefit by moving sensitive data to a private cloud and interfacing with public resources.

Hybrid cloud is highly valuable for organizations with dynamic workloads, large amounts of data to process, or a large mix of IT services. The flexibility, scalability, and responsiveness of the hybrid model cannot be underestimated. Also, the ability to pay for additional resources only when absolutely necessary can help organizations save significantly on costs.
Hybrid cloud scenarios:

Dynamic or frequently changing workloads. Use an easily scalable public cloud for your dynamic workloads, while leaving less volatile, or more sensitive, workloads on the private cloud or on-premises data center.

Separating critical workloads from less sensitive workloads. You can store sensitive financial or customer information on your private cloud, and use the public cloud to run the rest of your enterprise applications.

Big Data Processing. It's unlikely that you process big data at a nearly constant amount of time. Instead, you can run some of your big data analytics using highly scalable public cloud resources, while also using a private cloud to ensure data security and keep sensitive big data behind your firewall.

Moving to the cloud, at your own pace. Keep some of your workload on the public cloud or on a small-scale private cloud. See what works for your enterprise, and continue to expand your cloud presence as needed—on public clouds, private clouds, or a mix of the two.

Temporary processing capacity is needed. If you use your own data center's IT infrastructure, a hybrid cloud lets you allocate public cloud resources for short-term projects at a lower cost. That way, you don't over-invest in equipment you'll only need temporarily.

Flexibility for the future. No matter how well you plan to meet today's needs, until you have a crystal ball, you have no idea how your needs may change next month or next year. The hybrid cloud approach lets you match your actual data management needs to the public cloud, private cloud, or on-premises resources that are most capable of handling them.

Best of both worlds. Unless you have clear needs to be met by only a public cloud solution or only a private cloud solution, why limit your options? Choose a hybrid cloud approach, and you can tap the benefits of both worlds at once.
Advantages of Hybrid cloud:

Public Cloud: Advantages and Disadvantages

If you contract with a service provider such as AWS or Azure, you are using a public cloud and are essentially renting a piece of their distributed data center infrastructure. Public clouds are distributed cloud infrastructure as a service (IaaS). They offer economies of scale, massively scale, and run completely automatically, so it's nearly impossible for an on-premises data center to compete on price or efficiency.

The Advantages:

Scalability (both up and down). Virtually unlimited due to on-demand cloud resources.

Less capital expenditure (capex). You don't need to buy all your data center equipment.

Reliability. Due to services distributed across multiple data centers.

Disadvantages: Less control over data security. You never know where and under what geographic or other restrictions your data is operating.Higher operating expenses (OPEX). As you increase the level of performance, your cost-per-hour fee increases.Private Cloud: Advantages and DisadvantagesIf you set up a dedicated cloud infrastructure for your enterprise, you are using a private cloud. It's a private cloud whether you manage it yourself or rent a third-party service, and whether you host it in your own data center or off-premises.
Google Cloud Sample Resumes! Download & Edit, Get Noticed by Top Employers!
Download
Conclusion:

Hybrid cloud architecture includes many environments and types of components, and thus hybrid cloud management is a complex task. Fortunately, there are strategies and tools to help solve the complexities of hybrid management and create a streamlined approach across environments.

Implement hybrid cloud management practices to maximize control of your environment. For example, establish a cloud governance policy that defines standard procedures for resource configuration, access control, and other critical tasks. This will create a coherent, integrated approach across the various components of your hybrid architecture.

Centralize control of on-premises and cloud-based resources with a hybrid cloud management tool set that provides capabilities such as cost and performance monitoring, security, reporting and analytics. There are many third-party hybrid cloud management tools to choose from, such as CloudBolt, Scalr, Nutanix Beam and Embotics. Explore and test different features in your environment to choose a hybrid cloud management tool best suited to your organization's particular hybrid architecture.

Infrastructure-as-a-code tools can also help manage hybrid deployments. For example, Ansible, Puppet and HashiCorp's Terraform all provide hybrid cloud management capabilities. Adoption of containers and Kubernetes orchestration is another way of unifying resources in a hybrid architecture