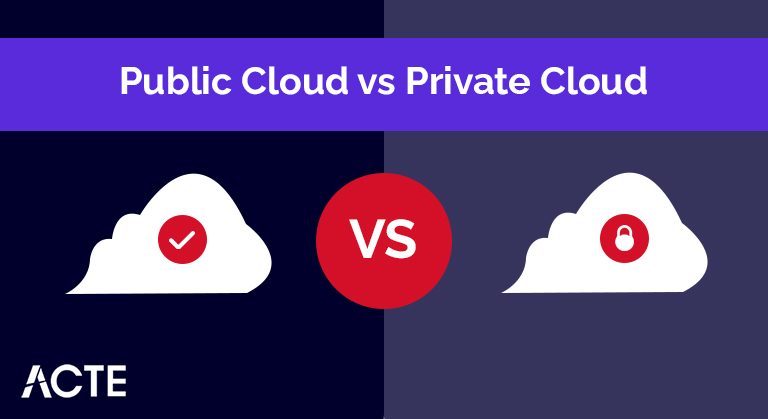 Public Cloud vs Private Cloud | Know Their Differences and Which Should You Learn?
Last updated on 31st Dec 2021, Blog, General
Public cloud is cloud computing that's delivered via the internet and shared across organizations. Private cloud is cloud computing that is dedicated solely to your organization.
Introduction to Cloud Computing
What is the public cloud Vs Private Cloud?
When to use the public cloud Vs Private Cloud?
Drawbacks of public cloud Vs Private Cloud
Advantages of public cloud Vs Private Cloud
Private Cloud vs. Public Cloud: What is the difference?
What are the deployment options while choosing a cloud strategy?
Is private cloud cheaper than public cloud?
Is it possible to have private data in a public cloud?
Conclusion
Introduction to Cloud Computing:

The term cloud computing extends to a wide variety of classifications, types, and architecture models. This network computing model has changed the way we work—you're already using the cloud. But the cloud is not a thing – cloud computing can be classified into three general types:

Public cloud is cloud computing that is distributed over the Internet and shared across organisations.
Private cloud is cloud computing completely dedicated to your organisation.
A hybrid cloud is any environment that uses both public and private clouds.

This article looks at cloud computing at the highest level:

Define cloud computing
Exploring public, private and hybrid cloud environments
Sharing use cases and examples

What is cloud computing?

Cloud computing is storing or accessing programs, apps, and data via the Internet instead of directly on your computer's hard drive. The most popular examples of cloud computing are software-as-a-service (SaaS), platform-as-a-service (PaaS) and infrastructure-as-a-service (IaaS) – both of which you can choose between public or private. set up or not. Cloud computing is giving rise to more offerings as a service, including:

AIaas: AI as a Service

Slave: Desktop as a Service

ITAS: IT as a Service

LS: Ransomware as a Service (On the Less Likeable Side of Technology)

Any cloud service consists of client-side systems or devices (PCs, tablets, etc.) that are connected to backend data centre components. The components that constitute a cloud infrastructure include:

Underlying infrastructure architecture can take a variety of forms and characteristics, including:

Virtual
software defined
highly converged

Individuals and companies alike value the benefits of cloud computing, including:

Reduce complexity
DevOps Optimization
Trading CapEx for OpEx
Plans for the future
Examples and use cases of cloud computing

There are some very clear examples of cloud computing, many of which you may already use in your personal or professional life:

Document sharing options, such as Dropbox, Google Docs, and Microsoft 365
Social networking and telecommunications services, such as Facebook, Twitter and Skype
CRM and Productivity Management Tools such as Salesforce and Atlassian
ITSM and ITOM software, such as BMC Helix
Online streaming services like Netflix, Sling and Hulu
Machine Learning and Big Data Analysis
IoT

What is the public cloud Vs Private Cloud?

Public cloud refers to the cloud computing model in which IT services are distributed via the Internet. As the most popular model of cloud computing services, the public cloud offers vast options in terms of solutions and computing resources to meet the growing needs of organisations of all sizes and verticals.

Defining features of public cloud solutions include:

High elasticity and scalability
A low-cost subscription-based pricing category
Services on the public cloud can be free, freemium or subscription-based, with you being charged based on the computing resources you consume.
Computing functionality can range from common services—email, apps, and storage—to enterprise-grade OS platforms or infrastructure environments used for software development and testing.
The cloud vendor is responsible for developing, managing and maintaining a pool of computing resources shared among multiple tenants from across the network.

What is Private Cloud?

Private cloud refers to any cloud solution dedicated for use by a single organisation. In a private cloud, you are not sharing the cloud computing resources with any other organisation.
Data centre resources may be located on-premises or may be operated by a third-party vendor. Computing resources are segregated and distributed through a secure private network, and are not shared with other clients.
Private Cloud is customizable to meet the unique business and security needs of the organisation. With greater visibility and control across infrastructure, organisations can operate compliance-sensitive IT workloads without compromising security and performance previously only achieved with dedicated on-premises data centres.
When to use the public cloud Vs Private Cloud?

The public cloud is best suited for these types of environments:

Predictable computing requirements, such as communication services for a specific number of users
Apps and services needed to conduct IT and business operations
Additional resource requirements to meet individual extreme demands
Software development and testing environment

Drawbacks of public cloud Vs Private Cloud:

Disadvantages of Public Cloud

The public cloud comes with limitations:

Lack of cost control. Total cost of ownership (TCO) can increase rapidly for large-scale use, especially for medium-sized to large enterprises.

lack of security. The public cloud is by nature the least secure, so it is not best for sensitive mission-critical IT workloads.

Minimum technical control. Low visibility and control in infrastructure may not meet your compliance requirements.

Drawbacks of Private Cloud

Private cloud has drawbacks that can limit use cases:

Price. Private cloud is an expensive solution with relatively high TCO compared to public cloud alternatives, especially for short-term use cases.

mobile difficulty. Mobile users may have limited access to the private cloud, considering the high security measures.

Scalability depends. If a cloud data centre is limited to on-premises computing resources, the infrastructure may not provide the high scalability to meet unexpected demands

Advantages of public cloud Vs Private Cloud:

Advantages of Public Cloud:

People appreciate these public cloud benefits:

No capex. No investment is required to deploy and maintain IT infrastructure.

Technical agility. High scalability and flexibility to meet unpredictable workload demands.

Business focus. The complexity and requirements on in-house IT expertise are minimal, as the cloud vendor is responsible for managing the infrastructure.

Affordability. Flexible pricing options based on different SLA offerings

Cost agility. Cost agility allows organisations to follow lean development strategies and focus their investments on innovation projects

Benefits of Private Cloud:

The most popular benefits of a private cloud include:

Unique environment. Dedicated and secure environments that cannot be accessed by other organisations.

Custom Security. Compliance with stringent regulations as organisations can run protocols, configurations and measures to optimise security based on unique workload requirements

Scalability without tradeoffs. High scalability and efficiency to meet unpredictable demands without compromising on safety and performance

Efficient performance. Private Cloud is reliable for high SLA performance and efficiency.

Flexibility. The private cloud is flexible as you change the infrastructure based on the ever-changing business and IT needs of the organisation.

Private Cloud vs. Public Cloud: What is the difference?

In short, public clouds use shared infrastructure, while private clouds use the organisation's own infrastructure.

Private clouds sometimes referred to as data centres reside on a company's own infrastructure, typically firewall protected and physically secure. Mature organisations that have invested heavily in on-premises infrastructure often take advantage of that investment to build their own private cloud. Although this provides a huge financial advantage, private clouds still need to be supported, managed and eventually upgraded or replaced. The responsibility of security in a private cloud falls entirely on the shoulders of the organisation, from physical security to encryption to network and cyber security. Since private clouds are typically owned by the organisation, there is no sharing of infrastructure, no multi-tenancy issues, and zero latency for local applications and users. 3 ways to make the cloud your businessLearn more.

Public clouds reduce the responsibility of managing infrastructure because they are by definition hosted by a public cloud provider such as AWS, Azure, or Google Cloud. In infrastructure-as-a-service (IaaS) public cloud deployments, enterprise data and application code reside on cloud service provider (CSP) servers, which can be shared with other organisations' IT resources in multi-tenant environments . Typical use cases for the public cloud are as a backup and archival medium for enterprise data, to support business continuity initiatives, to offload front-end web applications to low latency for global users, and to access IT resources. To support 'cloudbusting' of 'cloudburst' so that when demand for a particular application grows, additional instances of that application can be rapidly scaled up in CSP, over-stretching its on-premises infrastructure to handle sudden spikes in demand. Eliminates the need for the business to make provisions. Although the physical security of hyperscale cloud providers such as AWS is unmatched, there is a shared responsibility model that requires organisations that subscribe to those cloud services to ensure that their applications and networks are protected, for example by malware. For packet monitoring or providing encryption of data. Easy and fast.

Develop Your Skills with Advanced Cloud Computing Certification Training

Weekday / Weekend Batches

See Batch Details

There are many analogies for public and private clouds, such as:

Private cloud as a house, Public cloud as an apartment
Private cloud as you watch videos owned by you, Public cloud watching online streaming video.
In its simplest form, a private cloud is a service that is entirely controlled by an organisation and is not shared with others. Whereas a public cloud is a subscription service offered to any and all customers who want similar services. As with cable, one subscriber's information is not shared with others; In a public cloud each 'tenant' information is separate from the others.

What are the deployment options while choosing a cloud strategy?

There are four different cloud deployment models: public cloud, private cloud, hybrid cloud, and multi-cloud. When planning for cloud adoption, the first step is to determine which deployment option is right for the organisation. Deployment options are not cast in stone, an organisation can move from one to another as business and technology needs evolve.

Public clouds are shared, with on-demand infrastructure and resources distributed by a third-party provider. In a public cloud deployment, the organisation uses one or more types of cloud services such as Software-as-a-Service (SaaS), Platform-as-a-Service (PaaS) or IaaS from public CSPs such as AWS or Azure, Without relying to any extent on private cloud (on-premises) infrastructure.
Young organisations that are said to be 'born in the cloud' use public cloud services from their inception and have no reliance on legacy infrastructure or older applications. The public cloud deployment option is also common among smaller companies that have neither the budget nor the manpower to staff an in-house data centre or private cloud.

What are Private Cloud Deployments?

A private cloud is a dedicated, on-demand infrastructure and resources owned by a user organisation. The terms private cloud and on-premises data centre are often interchangeable.

Private cloud deployments are driven by the business, which is solely responsible for the infrastructure, applications, and security of the private cloud. Users can access private cloud resources over a private network or VPN; External users can access the organisation's IT resources through a web interface on the public network.
Private clouds are often used to ensure compliance with regulatory or governance demands, to ensure adherence to security protocols, or to leverage existing investments in IT infrastructure. Large enterprises can operate their IT as if it were a cloud provider, providing IT services to line of business (LOB) departments, self-service provisioning for development teams, and provided to LOBs. Charges back to user departments for private cloud services. Operating a large datacenter as a private cloud can provide many of the benefits of a public cloud, especially for very large organisations.

What are Hybrid Cloud Deployments?

Hybrid cloud is a combination of public cloud and private cloud services, which work together to provide stability in operations and infrastructure. Hybrid cloud deployments by definition always have public and private components.

Hybrid cloud deployment servers serve many purposes and their use continues to grow. Organisations that want to migrate to a public cloud deployment often take a hybrid approach, first migrating workloads that are least 'sticky', for example front-end applications that do not process sensitive information that are stored in on-premises private cloud servers. Over time, an increasing number of applications can be migrated, while legacy applications are reactivated to take advantage of modern application development and deployment techniques.

Hybrid deployments also provide elasticity and scalability. For example, a retailer that experiences a sharp increase in Access due to the holiday season may rapidly scale up its web servicing front end from private to public cloud servers by spinning off new instances. This way spikes in demand can be satisfied quickly without the need to purchase additional infrastructure, or over-provision for the holiday rush, and this infrastructure remains idle for most of the year.

What are multi-cloud deployments?

A multi-cloud is any combination of one or more public clouds and private clouds.

Many organisations rely on more than one public cloud provider. For example, they can use Azure for Exchange and database servers, AWS for hosting virtual machines and newly refactored code running in containers, and Google Cloud Platform for collaboration and office productivity tools. In many cases, organisations 'accidentally' adopt a multi-cloud deployment when individual user departments purchase their cloud services without IT knowledge, or when a merger or acquisition brings a new provider into the enterprise cloud fold.

Furthermore, since each CSP offers different organisations can choose from a menu of services provided by each provider and design a computing strategy perfectly tailored to their needs. Finally, some organisations are using cloud arbitrage to meet the needs of the CSP that offers the best deal at the time. By leveraging multi-cloud orchestration tools such as Kubernetes, these organisations can move application workloads from one cloud provider to another with absolutely no impact on user performance or uptime. Finally, deployment can be a combination of models. Organisations can be both multi-cloud and hybrid cloud if they use their own private cloud along with multiple CSPs.

Is private cloud cheaper than public cloud?

It could be, according to this study by 451 Research, which surveyed 150 IT decision makers and found that 41 percent were operating their private cloud at a lower cost than similar public cloud server pricing. Another 24 percent said the premium they paid for having a private cloud was less than 10 percent compared to a public cloud, a difference that they thought was worth it.

Organisations should remember that cost is not the primary driver for adopting or maintaining private clouds. Often regulatory demand or financial governance will demand that the data be protected and maintained in a certain geography. Other organisations demand the lowest possible latency, reducing round-trip network time to an absolute minimum by placing all IT resources in a single on-premises data centre.
Respondents found that the greatest savings and cost efficiencies for private clouds were realised by using automation, capacity-planning tools, flexible licensing arrangements, and cost and budgetary management tools.
Every organisation's needs are different, and the study concluded that businesses should not rely on outdated assumptions and common misconceptions when choosing a cloud deployment model. As with all things, your mileage may vary.

Is it possible to have private data in a public cloud?

Each organisation's data is stored separately from other companies in the public cloud; This is one of the key concepts of multi-tenancy. However, the major cloud provider agreements outline a shared responsibility model, where the CSP is responsible for the physical security of the data and the customer is responsible for logical security (encryption, cybersecurity, authentication, identity and access management). In any case, there are many scenarios where private data can reside in the public cloud.

Data security is a prime example. There are several cloud-based data protection providers that store company backups and snapshots in the cloud. Some of these providers use their own cloud; Others rely on inexpensive commodity storage available from providers such as Amazon S3. These backup providers are responsible for ensuring the security of the data assigned to them.
When choosing a public cloud provider, organisations should ensure that the data stored contractually with the CSP belongs to the customer, not the CSP. Furthermore, if the data is volatile and will be transferred between public and private clouds, care should be taken to ensure that the clearance fees for exporting data from the CSP affect the cost effectiveness of using the cloud provider in the first place. will not
Typically, enterprise data bases and record systems for large enterprises largely reside in the private cloud. Subscribers should also ensure that their security policies extend to cloud providers, that cloud provider service level agreements (SLAs) meet the needs of the organisation's users, and that regulatory compliance issues such as PCI, HIPAA and GDPR are fixed. is addressed from.

Google Cloud Sample Resumes! Download & Edit, Get Noticed by Top Employers! Download

Conclusion:

If your company prefers easy-to-use cloud infrastructure, fast service deployment, and a pay-as-you-go pricing model, then the public cloud is a better option for you. For example, it is quite common to use it for testing or development.

But if your company wants customization, security, low risk and can afford infrastructure development and expansion as business requirements grow, consider going for the private cloud. For example, many organisations migrate their business-critical systems to private clouds.

In any case, when choosing between cloud deployment models, you need to take into account your company's IT strategy. And keep in mind that the optimal cloud infrastructure for an enterprise is often a combination of private and public models.
After understanding all the factors discussed above, you will find that both public and private cloud services have their advantages and disadvantages. Things keep changing with the requirements of any organisation. Hence we should consider the selection of these services after comprehensively analysing various factors including budget, work-load, requirements and facilities being offered by the service providers to get the cost effective solution.