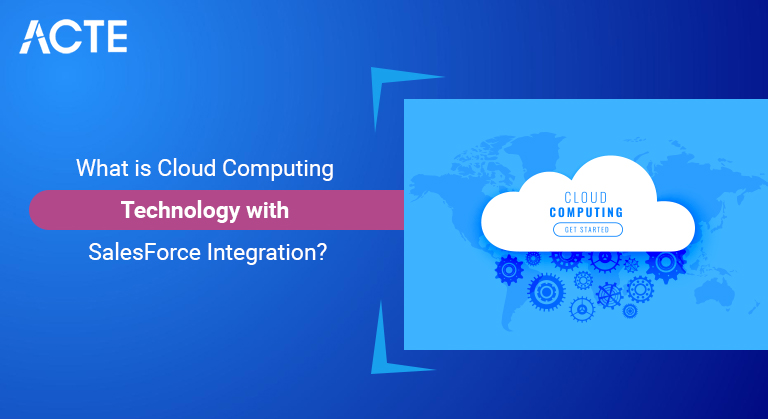 What is Cloud Computing Technology with SalesForce Integration | How its Work [ OverView ]
Last updated on 03rd Jan 2022, Blog, General
With cloud computing, businesses access applications via the internet. It's called Software As A Service (or SaaS). Businesses are freed up from having to maintain or upgrade software and hardware. Just log on and get to work, from anywhere and, in many cases, any device.
Introduction to Cloud
The History of Cloud Computing
How cloud computing works
Who uses the cloud?
What's so great about the cloud?
How safe is the cloud?
Advantages of Salesforce technology
Life before cloud computing
The three types of cloud computing
Conclusion
Introduction to Cloud:

Moving towards the cloud. Running in the cloud. stored in the cloud. Accessed from the Cloud: These days it seems like everything is happening "in the cloud". But what exactly is this vague concept? The short answer is that it's somewhere on the other end of your Internet connection – a place where you can access apps and services, and where your data can be stored securely. Clouds are a big deal for three reasons:

This makes the cloud a great place to run business software like customer relationship management (CRM) applications – software that users need to reliably access anytime, anywhere, and on any device.

It does not require any effort on your part to maintain or manage it.
It's effectively infinite in size, so you don't need to worry about it running out of capacity.
You can access cloud-based applications and services from anywhere – all you need is a device with an Internet connection.
This is important as a shift is underway from office-based work to working on the go. This change is reflected in sales of computer hardware: about 270 million desktop and laptop computers will be sold in 2015, compared to 325 million tablets and about 2 billion smartphones.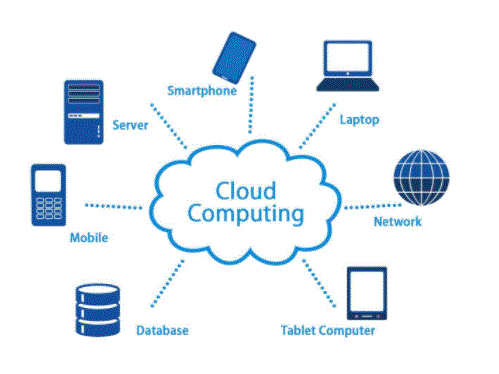 The History of Cloud Computing:

The Internet had its roots in the 1960s, but it had no relevance to businesses until the early 1990s. The World Wide Web was born in 1991, and in 1993 a web browser called Mosaic was released that allowed users to view web pages that included graphics as well as text. This marked the beginning of the first company web sites – and not surprisingly, most of these were related to companies involved in computing and technology. As Internet connections became faster and more reliable, a new type of company called an application service provider, or ASP, appeared. ASP took existing business applications on computing software and ran them for its customers to access over the Internet for a monthly fee.

But it was not until the late 1990s that cloud computing as we know it today appeared. That's when Salesforce introduced its multi-tenant application that was specifically designed to do three things:

Run "in the cloud"
Be accessible on the Internet from a web browser
To be used by a large number of customers at the same time at a low cost
Since then the cloud has grown bigger and bigger. In fact, spending on cloud services is projected to grow rapidly — from about $70 billion in 2015 to an estimated $141 billion or more in 2019.
How cloud computing works:

With the Cloud app, you just open a browser, log in and start working. This means that a field sales representative using a cloud-based CRM can access all the necessary information from their mobile device. Contact notes can be updated in real time so they are always fresh and complete and available to others – no more waiting to get back to the office to type it. And sales managers know which deals will close and when, from their desktop machines in their offices, or in their tablets or phones when they're out.

And all this without having to buy and manage any hardware, or install and update software. This is because the cloud company running the app is responsible for all the hardware and software required. Companies like Salesforce have years of experience managing their cloud infrastructure and making sure it's secure and reliable so you don't have to.

You can run all kinds of apps in the cloud:

Create and collaborate on documents and spreadsheets with Google Apps for Business.
Video conference with your colleagues on Skype.
Manage your sales and customer service functions, along with other key business processes on the Salesforce platform.
You can also build your own social, mobile and real-time employee apps and run them in the cloud. The latest innovations in cloud computing are making business applications even more mobile and collaborative.
Who uses the cloud?:

Cloud has become such an integral part of our daily life that most of the people use it without understanding it. In fact, for many people, life without the cloud would be radically different. There will be no Facebook, no Twitter, no Gmail, and no Spotify. Cloud has also changed the business landscape. Today, millions of organisations around the world rely on cloud services for everything from document creation and backup to social CRM and accounts. And just to get started.

Here's what it looks like:

Companies with more than 25,000 employees use an average of 545 cloud apps or services.
As of March 2016, Facebook had an average of 1.09 billion daily active users worldwide.
More than half of Internet users rely on cloud-based email services like Gmail and Yahoo! Mail to send and receive their messages.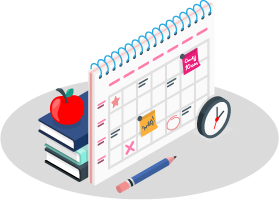 Develop Your Skills with Advanced Cloud Computing Certification Training
Weekday / Weekend Batches
See Batch Details
What's so great about the cloud?:

Cloud adoption has been rapid and global. Here are some of the most important reasons:

Fast implementation- Sign up and start using an application in the cloud right away. Even the most widespread enterprise applications are usually up and running in a matter of days or weeks rather than months or years.

No upfront cost- Skip arbitrary upfront costs like licences, integrations and consultants, and get the goods straight. Cloud software means you can dramatically reduce or even eliminate capital expenditure costs and instead just pay an entire monthly fee for the service.

Quick scalability- With cloud-based applications, you can increase or decrease the number of users as your needs change over time. This means you only pay for what you need, and you never have to worry about running out of capacity.

Maintenance free- It can take a few days of your IT staff's time each month to patch, upgrade, and test applications, but none of this is necessary with cloud applications. That's because it's all handled in the cloud, giving your employees more time to work on new projects and innovations.

Reach anywhere- Cloud applications are designed to be securely accessed from anywhere and on any device. Just sync it with your handheld device or tablet, make sure you have internet access, and you're good to go.

Better security- Large companies lose an average of 265 laptops a year, and every loss has serious security implications if they contain confidential data. But with cloud applications your data is stored securely in the cloud, so a stray laptop is only an inconvenience, not a potential disaster.
How safe is the cloud?:

Cloud security and privacy issues play an important role in the digital age, especially since data is not recorded in folders and stored physically in an office building. Every day, millions of new records are created and stored digitally in the cloud.

Particular attention should be paid to the security standards offered by the cloud provider, including measures for the secure transmission and storage of data, as well as the physical security of the cloud provider's data centre to control the access rights of its employees.

Salesforce is aware that the confidentiality, integrity and availability of our customers' data is critical to their business processes and our own success. We protect the most important data with our state-of-the-art approach to cloud security, in which we continually monitor and optimise our applications, systems and processes to meet the growing demands and security requirements. You should look for these qualities in any quality cloud service provider you are considering.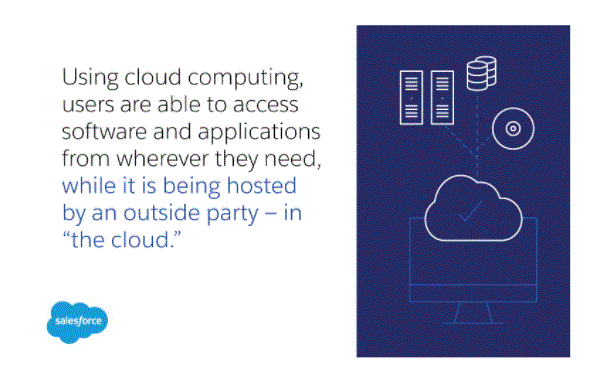 Advantages of Salesforce technology:

Cloud Computing:

One of the most important factors and benefits of Salesforce technology is that it is a completely cloud-based technology. No installation or maintenance hassle is involved.

Customization / Personalization:

As mentioned at the outset, depending on the prerequisites of the business, the application can be modified, and reports can be developed for the enhancement of the software for the particular organisation.

Integration:

It can be easily integrated with various other online platforms like social media, web applications, IOT, etc. and mobile and web applications to analyse customer behaviour and marketing of the product.

Diversity:

Salesforce CRM offers diverse modules like Sales, Marketing, Analytics etc. As per the requirement, users can implement the required modules and integrate them within the CRM itself.

Customer Contact:

Interacting with potential and existing customers has become easier than ever. Customer satisfaction increases when their discrepancies are heard, and this is what helps CRM organisations.

Analytics:

Last but not least, with RDBMS it becomes easy to track customer behaviour and feedback. This historical data helps in analysing the rise or fall in the purchase of a particular product or service by the organisation.
Life before cloud computing:

Traditional business applications have always been very complex and expensive. The amount and variety of hardware and software required to run them is daunting. You need a full team of experts to install, configure, test, run, secure and update them.

When you multiply this effort into dozens or even hundreds of apps, it's easy to see why the biggest companies with the best IT departments aren't getting the apps they need. There is no chance for small and medium sized businesses.

Cloud computing: a better way:

With cloud computing, you eliminate the headaches that come with storing your own data, since you're not managing the hardware and software—it becomes the responsibility of an experienced salesperson like Salesforce. The shared infrastructure means it works like a utility: You pay only for what you need, upgrades are automatic, and it's easy to scale up or down.

Cloud-based apps can be up and running in days or weeks, and they cost little. With the Cloud app, you simply open a browser, log in, customise the app, and start using it.

Businesses are running all kinds of apps in the cloud, such as customer relationship management (CRM), HR, accounting, and more. Some of the largest companies in the world have moved their applications to the cloud with Salesforce after rigorously testing the security and reliability of our infrastructure.

As cloud computing grows in popularity, thousands of companies are rebranding their non-cloud products and services as "cloud computing". Always dig deep when evaluating a cloud offering and keep in mind that if you have to buy and manage hardware and software, what you're seeing is not really cloud computing but a false cloud.

The three types of cloud computing:

Infrastructure as a Service (IaaS)- A third party hosts the elements of the infrastructure, such as hardware, software, servers and storage, also providing backup, security and maintenance.

Software as a Service (SaaS)- Using the cloud, software such as Internet browsers or applications can become usable tools.

Platform as a Service (PaaS)- The branch of cloud computing that allows users to develop, run and manage applications without getting bogged down in code, storage, infrastructure, etc. There are many types of PaaS. Each PaaS option is either public, private or a mixed mix of both. Public PaaS is hosted in the cloud, and its infrastructure is managed by the provider. Private PaaS, on the other hand, is placed in onsite servers or private networks, and maintained by the user. Hybrid Pass utilises both public and private elements and can execute applications from multiple cloud infrastructures.

Here are some other benefits of cloud computing:

Adaptable– Cloud computing allows for customizable programs and applications that are customizable, while allowing owners control over the core code.

Multiple tenant– Cloud software provides an opportunity to provide personalised applications and portals to multiple customers or tenants.

Reliable– Because it is hosted by a third party, businesses and other users have more assurance of reliability, and when problems do occur, easier access to customer support.

Measurable– With the Internet of Things, it is essential that the software works on each device and is integrated with other applications. Cloud applications can provide this.

Safe– Cloud computing can also guarantee a more secure environment, thanks to increased resources for security and centralization of data.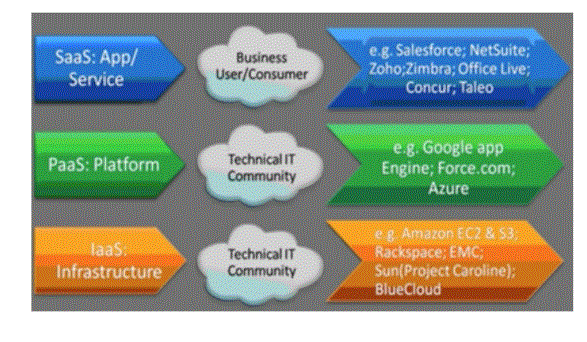 Google Cloud Sample Resumes! Download & Edit, Get Noticed by Top Employers!
Download
Conclusion:

A cloud computing service that specifically looks at customer relationship management is called Salesforce. The cloud platform used in Salesforce technology is software as a service (SaaS). It helps to connect with existing and future customers and partners in the business. With this technology, relationships with customers can be maintained well, and new customers can be created. Also, existing customers remain loyal due to the ease of doing business. The platform integrates all the domains such as marketing, sales, customer service, supply chain, data analysis and many more to give the customers a unified view of the business. Cloud computing is a method of storing and accessing data from the Internet instead of storing the data on the hard disk of your laptop or PC. Consider the simple example of Google Drive. Anyone can access or store data anywhere and anytime from any device with an internet connection. This is because the data is stored on the cloud. Just imagine how easy life has become because of the cloud. You don't need the traditional bulky hard disk or storage space on your laptop, PC or mobile phone.